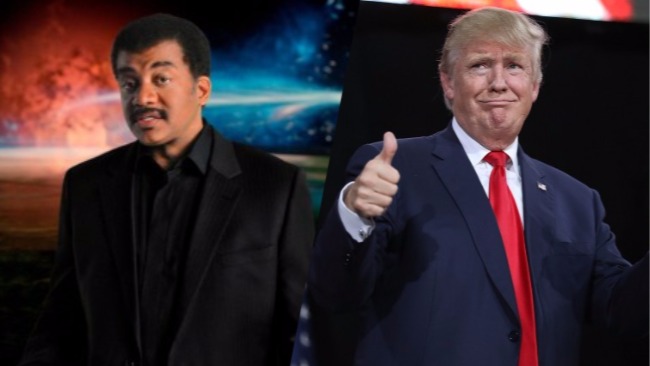 First and foremost, Cosmos: A Spacetime Odyssey and StarTalk host Neil deGrasse Tyson is a scientist. Maybe that's why the celebrity astrophysicist decided to wade into the political waters on Twitter early Friday afternoon when he tweeted something rather, um, intriguing about President-elect Donald Trump. Whatever inspired Tyson's tweet — let alone its wording — remains unclear as the famed intellectual hasn't followed it up without any subsequent tweets or explanations. However, his intentions are clear — he wants to "discuss science" with the President-elect of the United States, and he wants to do so with his complete attention.
"When I meet President Trump," Tyson tweeted, "I may first grab his crotch — to get his attention — then discuss Science with him."
Perhaps it's a delayed response to a New York Times report last week that Myron Ebell, a known climate change denier, is Trump's top choice for the head of the Environmental Protection Agency. (He's also consulting with the transition team over matters of "choosing personnel and setting the direction of the federal agencies that address climate change and environmental policy more broadly.") That, or China's recent rebuke of an old Trump tweet claiming climate change, as a concept, "was created by and for the Chinese" and their business interests against American manufacturing.
Whatever Tyson's reasoning may be, the reactions to his tweet have been stellar:

A few took a slightly more serious route, suggesting or implying Tyson's tweet legitimized jokes about sexual harassment:
Interestingly, Tyson's previous tweet from Tuesday described "a great challenge in life: Knowing enough to think you're doing it right, but not enough to know you're doing it wrong."
Some of the astrophysicist's detractors probably thought he should have taken his own advice.