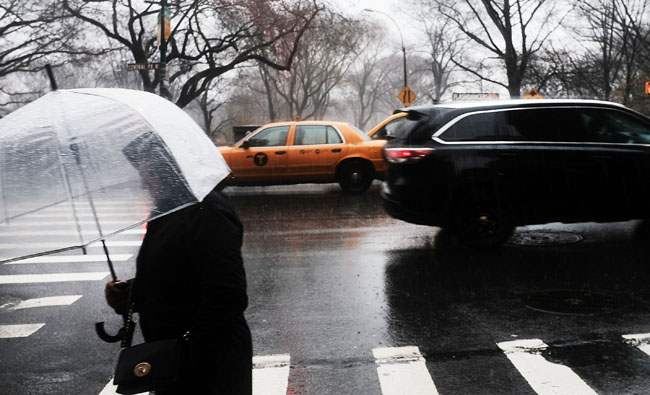 Heavy rains, lightning, and wind pummeled the Northeast early Monday morning, resulting in flash flood warnings across New York City, Philadelphia, and Washington, D.C. — making for one super miserable Boston Marathon. The rain is expected to end later on Tuesday, as the storm system makes its way into Canada, but not before dumping lake effect snow on parts of the Northeast and the Great Lakes.
For New Yorkers on Monday morning, the weather made for an exceptionally miserable start to the work week, especially for those who rely on public transportation. Water poured down stairs into subway stations. It flooded tracks and platforms. It caused waterfalls over the side of the trains, drenching commuters as they exited. It even came down from inside of the cars.
As one individual perhaps best summed up the mayhem, THR journalist Jeremy Barr, "Good morning and welcome to hell."
New Yorkers are a scrappy bunch however, so while some of us would have hid under the covers and called the day a wash — pun intended — people braved the commute as best they could. But also being New Yorkers they made sure to document the flooding by complaining and posting video to social media, as you can see below.
Thankfully, the extended forecast is calling for much drier, spring-like weather.