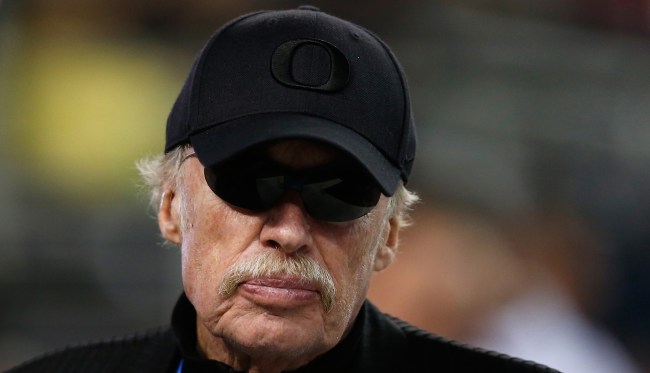 Considering the powerhouse Nike has become — its sales pushed $28 billion last year — it's amazing to think the whole thing originated in the trunk of Phil Knight's car. The future Nike founder and CEO famously hawked sneakers hand-altered by legendary Oregon track coach Bill Bowerman at track meets and such, and somehow, he spun that into one of the most enduring brands in history.
At a base level, Knight has obvious talents and vision that put him in an upper echelon as an executive. But it's still instructive to take inventory of some of the things that went into building him into one of the most powerful men in sports. After all, to use the example of Nike's most successful avatar, Michael Jordan wasn't always Michael Jordan. Ostensibly, we all have to start somewhere.
"Sometimes I look out there, and I get goosebumps," Knight once said about Nike's expansive campus. "But you better not spend much time doing that because every six months is a new lifetime, and you've got to worry about what's coming up to stay ahead of the curve.
"If you want to spend time saying this is cool, you're going to get your ass kicked."
Knight turned 77 today, appropriately sharing a date of birth with fellow master entrepreneur Steve Jobs (not to mention Floyd Mayweather; it was a good date for self-made tycoons). To commemorate Knight's birthday, here are five things we love about Phil Knight that you may or may not know.
1. ParaNorman activity
If you never knew why Nike made sneakers to commemorate stop-motion animated films like ParaNorman and Boxtrolls, it's because Phil Knight actually owns the company that makes those movies. After a brief attempt at becoming a rapper, Knight's son Travis continued to eschew the family business, taking a position as an animator at a company named Vinton Studios.