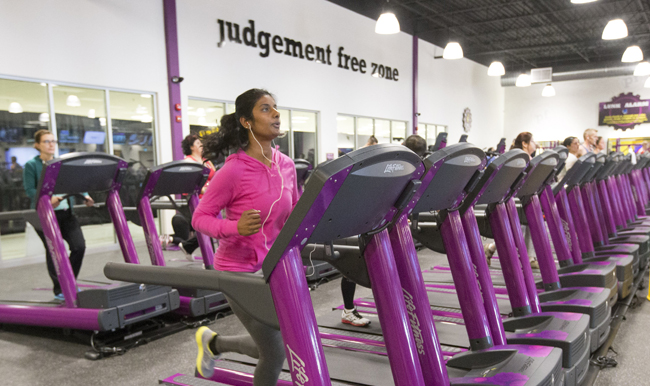 Planet Fitness might not be a place that folks consider a real gym and they might not actually want you to come and work out, but one thing no one will say is that they are exclusionary in their practices. Everybody seems equal in the eyes of Planet Fitness, especially in this story out of Midland, Michigan.
Yvette Cormier claims to have never heard of a transgendered person before her encounter in the Midland Planet Fitness locker room, a meeting that led her to go to the front desk and complain about a man in the locker room and led the gym to revoke her memebership. From WNEM:
"I was stunned and shocked. He looked like a man.. He did not look like a woman," Cormier said. Cormier is talking about a transgender woman who walked into the woman's locker room while she was getting undressed. She says she couldn't believe her eyes.

"This is very unprofessional. This is very scary," Cormier said.

Not knowing why the person was in the women's locker room, Cormier said she immediately complained to the front desk and eventually to corporate offices.

"They told me the same thing, that he was allowed in there because that's the sex he wants to be," Cormier said.

Cormier said she understands that some men self-identify as women and some women self-identify as men, but said the person looked like a man and that caught her off guard.

Cormier lost her membership for violating the company's no judgement zone policy…

The company told TV5 that Cormier's concerns about the policy regarding gender identity was inappropriate and disruptive by complaining to other members at the gym.
Planet Fitness also released this statement addressing the issue and their reasoning for revoking Cormier's membership:
"Planet Fitness is committed to creating a non-intimidating, welcoming environment for our members. Our gender identity non-discrimination policy states that members and guests may use all gym facilities based on their sincere self-reported gender identity.

In expressing her concerns about the policy, the member in question exhibited behavior that club management deemed inappropriate and disruptive to other members, which is a violation of the membership agreement and as a result her membership was canceled"
The situation raises questions about how gyms like Planet Fitness can create an environment that is supportive of the all the needs of the community. Many of the people interviewed for this story claim to be in the same boat as Cormier when it comes to those who identify as transgender, leading some to call for adjustment to help ease change:
Char Davenport is a professor at Saginaw Valley State University as well as Delta College. She's a prominent member of the transgender community. Davenport is also a transgender woman.

Davenport said she is not surprised by Cormier's reaction. At the same time she said she applauds Planet Fitness for understanding the needs of the transgender community.

According to Davenport, Planet Fitness and any other facility looking to support the transgender community, she insists they must have the proper facility so that supporting LGBT rights doesn't impose on those who may not have a full understanding of her community.

"Private showers and changing areas really would go a long way in resolving these issues," Davenport said.
The entire thing seems like an example of miscommunication when you read the report, but it's hard to say what happened exactly without being there. Planet Fitness either seems to have a zero tolerance policy to any sort of judgmental behavior on their property or Cormier's reaction went a bit further than her comments lead on. It's doubtful we'll find out, unless it is left up to public opinion.
(Via WNEM / Raw Story / Refinery 29)