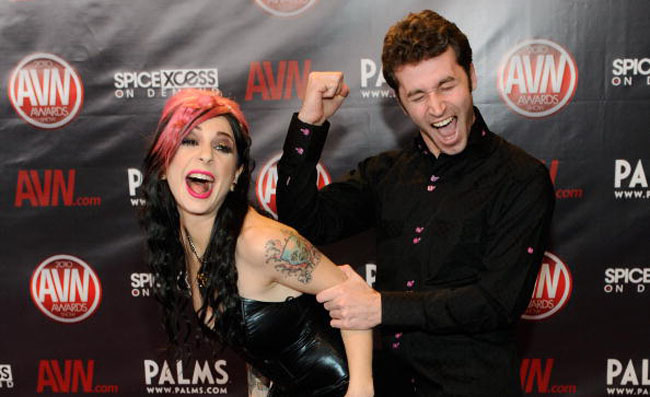 Porn stars have shared a lot with us in the recent past: They've told the world about the kinkiest stuff they've ever done in front of a video camera and revealed what they wouldn't do in a movie. And now, in a new book, some of the biggest names in the business are telling audiences exactly what their parents think of them doing porn.
The New York Post reports that while not all the responses have been positive—Cinnamon Maxxine's parents didn't speak to her for a very long time—at least one of the performers profiled in Coming Out Like a Porn Star had a lot of support from the people who raised her. Joanna Angel's mom and dad, who are Orthodox Jews, thought it was just something she was trying and would eventually tire. They supported her regardless:
"Mom was like: 'This is just a phase, right?' " recalls Angel, who is now based in LA and has seen her site grow into one of the world's largest alternative-porn empires. "Then she asked: 'Will people see you naked?'"
Meanwhile, her dad, Stephen, a consultant, was worried about her safety, and warned that it was seldom a good idea to launch a business with a friend.
Angel's not tired of the business yet, though. Fourteen years later, she's still making movies and riding a career high that could last her a very long time. Some of the people who know her parents even recognize her from her films. Is that weird? Only kind of:
Once, a new employee of her dad's couldn't stop staring and sidled up to her at a company picnic.

"Are you … ?" he stammered. "Yep," she replied.
What did her dad do when the new employee asked him about it? He just thought it was pretty funny. And Angel's parents haven't changed their minds about supporting her, even though other relatives have been furious with them for encouraging her to follow her own path, one that includes a whole lot of filmed sex. But that isn't stopping Angel. I met her in January at The AVNs (she was getting her t-shirt cut up into a dress in the middle of the show floor) and she said she loves what she does.
Even Cinnamon Maxxine's parents eventually came around. She told The New York Post that there's still some weirdness, but they have come to visit her in San Francisco.
(Via The NY Post)