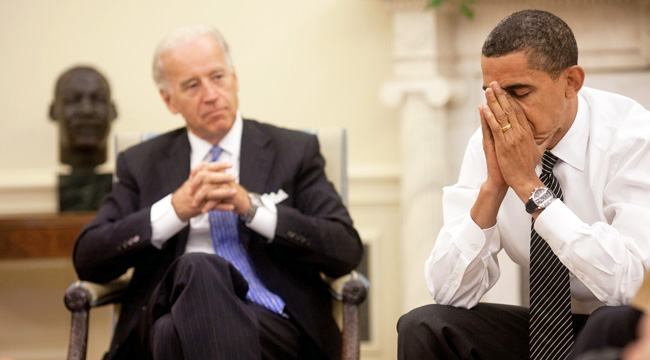 President Obama and Vice President Joe Biden still have plenty of work to do before turning the White House over to the victorious Donald Trump and Mike Pence. While the successors may eventually disappoint voters, that's nothing new in politics. Neither is the notion that the party handing over control to the next administration is displeased with the entire affair.
Of course, Obama and Biden must project diplomatic airs, which is their duty. They must lead by example and hope the rest of America quickly adopts the same tone, but that won't happen immediately. And if a few jokes helps disappointed Hillary Clinton supporters on the way to acceptance, then so be it. This weekend, the Internet came together while armed with multiple Getty photos. The captions were pretty amazing, starting with a quick hitter for this 2012 photo of Biden holding Obama's hand in the Oval Office while hoping to "freak Mike Pence out."
Next up, a 2009 Oval Office photo — which shows a stubborn-faced Biden next to a weary Obama — is providing a load of inspiration for hopeful captioners. Spoiler Alert: A certain Breaking Bad star wins the whole thing.
Aaron Paul definitely scored the most immature yet refreshing caption of the bunch. A farting Joe Biden shall certainly heal the country.