Congratulations, America! You're now one step closer to having a time traveler President. YOUR OSCAR POOLS HAVE THE POTENTIAL OF BEING UNSTOPPABLE!
No, Hillary Clinton hasn't found herself caught up in a Quantum Leap type situation. Say hello to Washington-based lawyer Andrew D. Basiago. ("Hello!") This man is running for President in 2016 and he has the noted advantage of having traveled through time, space and parallel universes. Our buddy Andy also looks like someone with a bit of Microsoft Office training, so feel free to write that down too.
Oddity Central has a fascinating profile on Basiago that dives a into his background and ambitions as he aims to reach the White House. Unlike his opponents, Basiago claims to have attended the Gettysburg Address, spoken to future Presidents long before they held office and he's even seen into the future. Heck, he may not even need your vote, because he already knows the outcome.
"I have prior knowledge that not only will I run for president, but that during one of the elections – which would have to be between 2016 and 2028, because I'm not running past that – I'm either elected president or vice president."
Basiago won't be hogging all that sweet sweet time travel technology to himself, mind you. His plans involve disclosing the country's time travel technology secrets.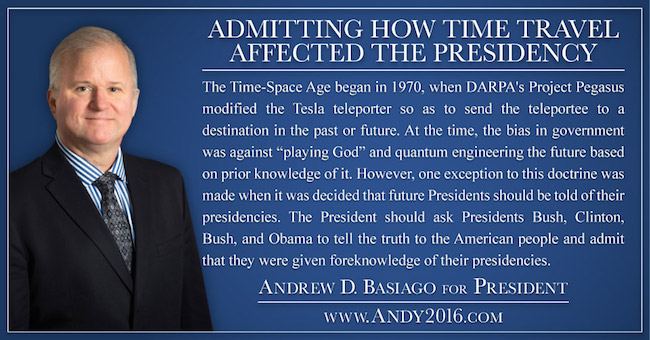 Basiago also advocates for the end of alien cover-ups. WHERE HAVE YOU BEEN HIDING THE SPACEMEN, GOVERNMENT? YOU'LL HAVE TO ANSWER THIS QUESTION BEFORE 2028!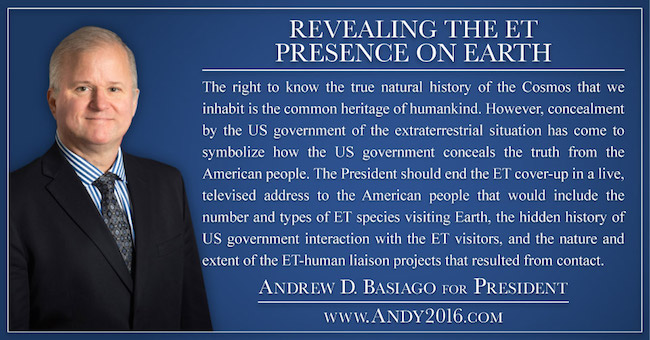 Quite possibly the most intriguing thing about this independent candidate's platform is that he refers to himself as a prominent member of The Truth Movement. Careful Andy, Corey Feldman's band is also named Truth Movement and they've got some messages of their own.
(via Oddity Central)