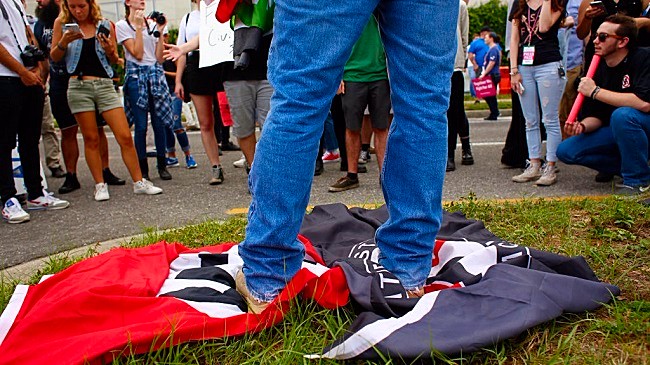 If the campaign, election and presidency of Donald Trump have proven anything, it's that popular forums and social media platforms play a major role in American politics. This is especially true of Reddit, the "front page of the internet" whose more volatile, sexist and racist users have tested the company's harassment policies to the extreme. Hence why, following a major policy shift announced on Wednesday, website administrators and moderators have begun banning several prominent Nazi, white supremacist, white nationalist and so-called "alt-right" forums whose content violated the new rules.
According to Gizmodo, Reddit's new anti-violence and harassment policies were announced via a post to the /r/modnews forum:
[W]e found that the policy regarding 'inciting' violence was too vague, and so we have made an effort to adjust it to be more clear and comprehensive. Going forward, we will take action against any content that encourages, glorifies, incites, or calls for violence or physical harm against an individual or a group of people; likewise, we will also take action against content that glorifies or encourages the abuse of animals. This applies to ALL content on Reddit, including memes, CSS/community styling, flair, subreddit names, and usernames.
Soon after the changes made their way across the website, Redditors began to notice which particular subreddits had been banned — or were in the process of being banned. Per BuzzFeed News, the number of affected subreddits was up to 10, and included such aptly-named darlings as r/Nazi, r/EuropeanNationalism, r/pol, r/racoonsareniggers and r/whitesarecriminals. In a statement, Reddit told BuzzFeed that "we strive to be a welcoming, open platform for all by trusting our users to maintain an environment that cultivates genuine conversation."
Specifically pro-Trump subreddits like the popular /r/The_Donald forum have not been affected. According to Gizmodo, however, users are speculating as to whether the group's "race-baiting, mod-threatening, and ostensibly Trump-centered" attitude will attract the new policy's attention. Otherwise, it seems Thursday morning has found many Redditors experiencing their own Mitchell and Webb-like moment of self doubt.
(Via Gizmodo and BuzzFeed News)