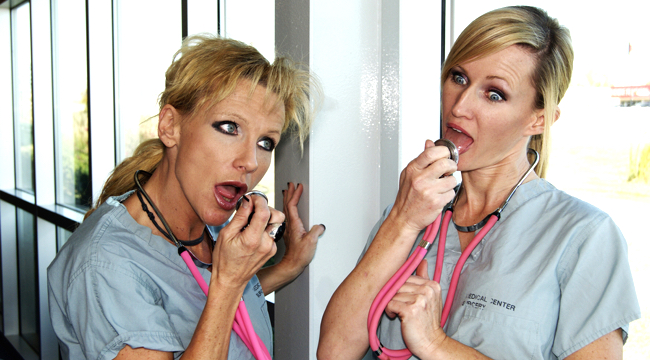 When the Internet turns to AskReddit for stories, a thread that climbs to the top of the pile always contains unusual tales. Some of the more offbeat threads involve users who stumble into strange moments (private or not), such as those recent embarrassing family moments. One particularly fun thread involved users who witnessed strange behavior from strangers, including a man in a chicken suit who ripped a staircase railing off a wall and simply said, "F*ck the system.'"
Chicken man quickly gained legendary status, and now it's time for a thread full of bizarre acts in medical settings. Nurses (and some doctors) came together to create a collectively professional pit of madness. These poor people earn every dollar of their salaries every day of the week:
Let's get started with KriptiKFate, who worked at a retirement home and encountered a character from a Stephen King novel:
"At a retirement home for elderly folks with severe dementia. There's this one guy that is always silent, but cheery. Always smiling, waves when you acknowledge him. One day, out of the blue, he stops me in the hall and raises his finger toward a room with the sternest scowl I have ever seen. He says, in the deepest most-movie-trailer-narrator voice I have ever heard in person, 'THIS.. This is the room.' Upon entering 'the room' I found that he was directing all of the wandering residents into this room and had like 4 people crammed into this little studio unit."
Hospital patients need love, too, as the DarkLancelot user discovered:
"No poles in the patient's room but that didn't stop them from getting a lap dance from a lady who was clearly not wearing the nurse's 'outfit' because she worked there."
Angwilwileth throws down a believable, but still gross sentence:
"Patient was picking scabs off his abdomen and eating them."
This wouldn't be a medical thread without a poop story. Right, Yzre?
"First internship in a geriatric ward. Me and a fellow student walk into a patient's room, who is screaming like crazy. He was known for having serious dementia. We open the door and my student-colleague gets a warm handfull of sh*t thrown right in his face."
This woman surprised the hell out of Mak224 by delivering her own child:
"Not super strange overall, but unexpected. Labor and delivery unit; saw from the main monitor at the desk that one baby's heart rate had stopped tracing on the fetal monitor. It happens sometimes with position changes during labor, so we went in to go readjust. Patient is just sitting there cleaning the just born baby off with the sheets, looks at us like nothing is wrong. Didn't even ring her call bell."
NonReligiousPopette let her patients finish what they started:
"I walked in on two ladies gettin' it on. I apologized, told them I'd give them a few minutes to finish up, and come back later."
WelfordNelford encountered a very bloody affair, which was terrifying:
"I had a patient who kept pulling his IV line out because he said he couldn't "get up and move around" while attached to the IV pump. I told him that, under NO circumstances, was he to pull the IV out of his arm again, he needed the fluids/medications, etc. A couple hours later I walked by his room and it looked like someone had been slaughtered in there! The bed was soaked with blood, blood was spattered on the walls and the furniture, and there were pools of blood on the floor leading to the bathroom. I went into the bathroom, and there he was…standing at the sink washing his face…with blood POURING out of the IV tubing that he broke so he could get up! He seemed dumbfounded about what the big deal was…looking right at me and saying 'You said not to pull the IV out of my arm, right?'"
A wee collection of strange stories arrives courtesy of YNgail:
"(1) Child putting play doh in the Jackson Pratt right after having a liver transplant;
(2) Nurse kneeling in front of a teen patient (had the patient's back to me so I couldn't see what the nurse was doing) and the patient says yes that feels good this way…turns out she was only changing the bandage on his ankle;
(3) As I opened my patient's door I can only see the doctor dancing on furniture"
ZombieQ tells a shocking story that can't possibly be true (one hopes not):
"I was about to perform a colonoscopy and the patient was shoving M&Ms in his rectum …. said he wanted to give me an Easter egg hunt."
Kpadre brings it home with the story you expected to hear:
"Had a guy in his late teens/early 20s constantly masturbating. Everyone walked in on it. It was on a floor where the patients were separated by curtains too. Looking back, I think he was an exhibitionist and he was making us all subjects to his masturbatory fodder, so that was fun."
(Via Reddit)
Now Watch: Top 10 Creepiest Dances