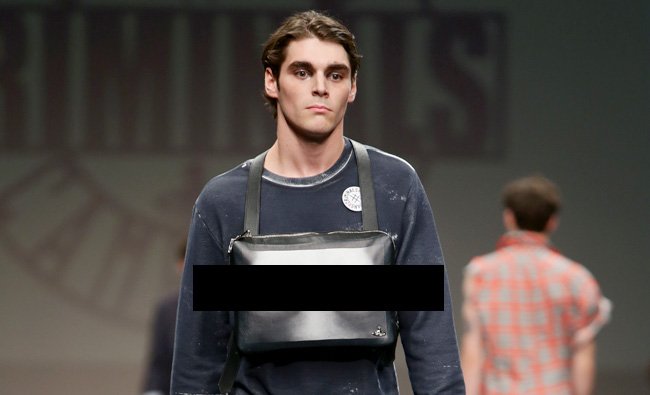 The Walters of Breaking Bad both seemed to have had eventful weekends. While Bryan Cranston brought Walter White out of retirement with an appearance onstage at the Electric Daisy Carnival, his television son, Walt, Jr., also known as RJ Mitte, walked the catwalk at the Vivienne Westwood show in Milan. According to NY Mag, Mitte — who's signed with the modeling agency Elite Models — both opened and closed the show, wearing this bizarre breast piece with not a bowl of Raisin Bran, but an actual picture of female breasts.
NSFW image below. You've been warned!
It looks like there's a zipper at the top of that thing. Can you store things in there? Like, is this some kind of purse for men that you wear on your chest, and by putting a picture of boobs on it, it symbolizes female privilege that society deems okay for women to carry around purses, but not men? Do all men just secretly wish they could carry purses?
I don't think I understand fashion.
(Via NY Mag)