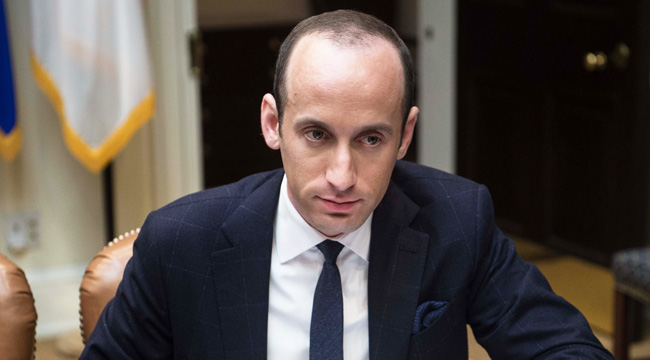 President Trump continues to shed administration members at a rapid pace, and many wonder whether Secretary of State Rex Tillerson and Chief of Staff John Kelly may soon follow in the footsteps of Sean Spicer, Reince Priebus, Michael Flynn, and Anthony Scaramucci (among others). However, one aide seems almost invulnerable to dismissal, and that would be Senior Advisor Stephen Miller, the architect behind so many of Trump's immigration and foreign policy guidelines and speeches.
Not incidentally, people have had so much fun digging into the guy's high school roots for early evidence of his ragingly obvious nationalist tendencies, which may provide clues regarding his staying power. For example — during a high school election speech, he expressed hostility toward minorities and lost to famed hipster photographer Cobrasnake after being booed off the stage. Now, the New York Times has some insight into an unrelated Miller exploit. That is, he once crashed a girls' track meet to show off his superior male athleticism (or something?):
He jumped, uninvited, into the final stretch of a girls' track meet, apparently intent on proving his athletic supremacy over the opposite sex. (The White House, reaching for exculpatory context, noted that this was a girls' team from another school, not his own.)
The White House's non-denial is absolutely amazing. One can easily imagine that Hope Hicks sighed while conceding that, yes, Miller did this, but please understand that it happened at a different school than the one attended by Miller. But no worries, there's more to come, including a "patriotic semi-striptease" delivered by Miller:
Mr. Miller set off on a patriotic semi-striptease before the editor of the student newspaper, according to the editor, Ari Rosmarin, theatrically removing a button-down to reveal an American flag T-shirt in protest of an article he found inconsistent with the national interest. (The White House denied any symbolic unbuttoning, though officials confirmed Mr. Miller's fondness for the T-shirt.)
Long before Miller was pulling White House strings, he was using wardrobe "tricks" to critique things that were not — in his mind — of the national interest. And once again, the "denial" is awesome. White House officials are aware of this notorious t-shirt, which says plenty.
(Via New York Times)