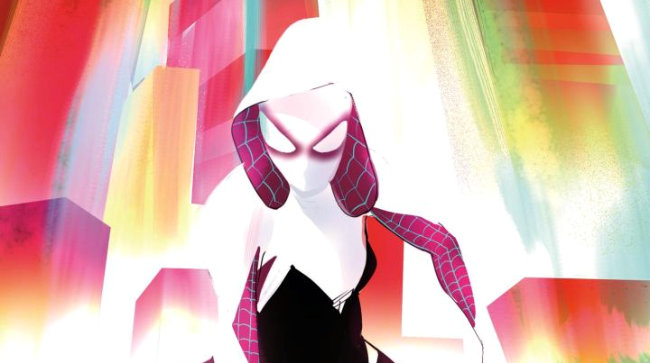 The last new comic book day of February sees a huge pile of #1s. Let's sort through what we've got on the sub pile today.
Suiciders #1
Lee Bermejo's new book takes place in a Big One-cracked Los Angeles, divided into New Angeles and "Lost Angeles," and where gladiatorial combat… yeah, you know this plot. Sadly, while the art is Bermejo's usual gorgeously rendered and detailed work, with Matt Hollingsworth giving it a dusky color job, the story is no great shakes and we don't get enough detail here to really engage with the overarching story. A solid start, but it needs to get into gear quickly.
Spider-Gwen #1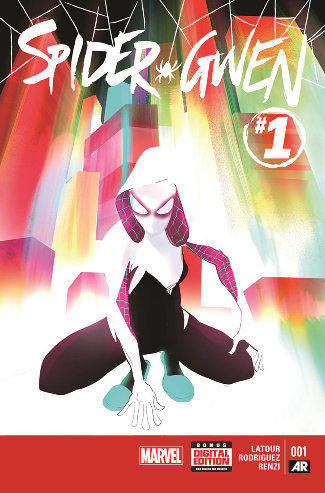 Spider-Gwen did so well in her one-shot, Marvel pretty much approved the ongoing right away. Honestly, it's not reinventing the Spider-wheel; Gwen's a teenager with problems and some smart-ass remarks. What makes it work is Robbi Rodriguez's kinetic, energetic art and Jason Latour's careful use of other characters. There's no enormous, sprawling moment this world without Peter Parker has that makes how the Marvel Universe might be different, but lots of little ones; characters we know in different places, doing different things. It's not quite distinct, but it's a fun, energetic read and worth picking up if you're a Spider-fan.
Mister X: Razed #1
Here's an oddly delayed Christmas issue set in the futuristic city of tomorrow that drives everyone mad. Dean Motter's art has the usual clean lines and old-fashioned typesetting, but the plot twist in question is a bit corny. It's a good read for fans, although probably of little interest to anyone else.
D4VE #1
The robots have won. They've taken over the galaxy and wiped out every life form that isn't them. So, what's next? For D4ve, it's a crappy job, a marriage that's falling apart, and clinging to memories of being a defense-bot. In truth, Ryan Ferrier delivers a pretty standard script here, minus the robot trappings, but what sells this issue is Valentin Ramon's witty art, whether he's parodying various pop culture robots or filling the panel with little silly details that reward a closer look at each panel. Ferrier has two No. 1's this month more in love with their concept than with delivering a fully fleshed-out story, but Ramon's work makes this one worth picking up.
Joe Frankenstein #1
'90s kids rejoice. Graham Nolan and Chuck Dixon are teaming up again for another comic! Admittedly, this is a fairly straightforward tale of a teenager discovering he's something more than just a sad sack, specifically the heir of Frankenstein and the unknowing buddy of a rich badass. But it's just trying to be a fun, goofy read, and it succeeds easily. Especially for those who fondly remember their work on Batman, Joe Frankenstein is a book worth picking up.
Orphan Black #1
Seen the pilot? That's this first issue, just with a few extra bits and the usual bad art that accompanies too many leaps from the TV screen to the comic book page. Solely for hardcore fans of the show.
Curb Stomp #1
Ryan Ferrier tries to deliver a story of girl gangs and '70s exploitation, but it doesn't quite come together. Part of it is the fact that Ferrier more or less just pastiches an entire genre of exploitation movies and doesn't really bring anything new to the party, aside from an uncertain chronology and Black Flag lyrics. Another part is that while Devaki Neogi delivers largely solid art, the action scenes aren't quite up to snuff, a serious problem when you're aping The Warriors. Neil Lalonde's lurid color scheme does amp the book up quite a bit, but overall, there's just not quite enough here to recommend it.
The Black Hood #1
The first book in Archie's newly revived Dark Circle line of superhero comics, and it being a book about a violent vigilante by Duane Swierczynski, you'd be forgiven for thinking it's Archie's approach to the Punisher. It's not. Instead, Greg Hettinger is a beat cop severely injured in a Philadelphia shootout who struggles with the fact that he's killed a man… the previous Black Hood, in fact. It's almost too dark, in some ways. Greg is struggling with a pill addiction, he's filled with self-loathing, and he can barely talk. The book works mostly because Swierczynski makes sure that not everybody's a bummer; it's not the world that sucks so much, as Greg has suddenly lost the ability to deal with it. Michael Gaydos does a good job with the art, especially in depicting Philadelphia, giving it a gritty, grounded feel, and overall, it's a fascinating launch. Highly recommended.
Prince Valiant #1
Nate Cosby and Ron Salas bring that comic strip you never read to comic books and take the bold step of making Prince Valiant violent and kind of dimwitted. Salas' art is crisp, if a bit lacking in overall detail, and it's an interesting angle on a comic strip that seems mostly to exist these days. Worth a read, if you're curious to see a stodgy character reinvented.
Quantum And Woody Must Die! #2
It turns out that a great and powerful force has been aligned against our heroes. Namely, a support group of people whose lives have been wrecked by the utter incompetence and general idiocy of the World's Worst Superhero Team. It's not a subtle book, but watching normal people try, and fail, to be insidious supervillains is pretty funny, and if that's your jam, this is your book.
They're Not Like Us #3
We delve further into the world of vigilante psychics with this issue, as our heroine learns self control and the joys of being able to beat the shit out of anybody she feels like. This will, of course, surely not go wrong! But no matter what, it's a brisk, clever read that everyone should have waiting for them. Although, I still wish they'd bring back Nowhere Men.
Colder: The Bad Seed #5
The seemingly random insanity of the last four issues, with the villain chopping off the fingers of various people in Boston landmarks, gets a slight explanation… via a comic book within a comic book. Turns out, our hero made a deal with the devil, and getting out of it will cost him. As always, highly recommended.
Daredevil #13
The trope of "my enemies may strike me through the ones I love!" is an old and venerable one in comics… which Mark Waid decides to toy with juuuuuuust a little in this issue. Paired with Chris Samnee's beautiful art, this book is, as usual, superb and highly recommended.
The Full Retail List
ACTION LAB ENTERTAINMENT
Fight Like A Girl #4 (Of 4), $3.99
Pirate Eye Exiled From Exile #2 (Of 4), $3.99
Princeless The Pirate Princess #2 (Of 4), $3.99
AMRYL ENTERTAINMENT
Cavewoman The Zombie Situation #1 (Cover F Arthur Adams), AR
ARCANA STUDIO
Langley High Volume 1 GN, $14.95
ARCHIE COMIC PUBLICATIONS
Archie's Funhouse Comics Digest #12, $4.99
Betty And Veronica Comics Digest #231, $4.99
Black Hood #1 (David Mack Variant Cover), $3.99
Black Hood #1 (David Williams Variant Cover), $3.99
Black Hood #1 (Francesco Francavilla Variant Cover), $3.99
Black Hood #1 (Howard Chaykin Variant Cover), $3.99
Black Hood #1 (Michael Gaydos Regular Cover), $3.99
Sonic Universe #73 (Agnes Garbowska Extreme BFFs Variant Cover), $3.99
Sonic Universe #73 (Tracy Yardley Regular Cover), $3.99
AUTOMATIC PICTURES
Hatter M The Looking Glass Wars Volume 5 Love Of Wonder HC, $24.99
Hatter M The Looking Glass Wars Volume 5 Love Of Wonder SC, $14.99
AVATAR PRESS
Dark Gods #4 (Christian Zanier Nightmare Incentive Cover), AR
Dark Gods #4 (Christian Zanier Siren Cover), $3.99
Dark Gods #4 (German Erramouspe Regular Cover), $3.99
Dark Gods #4 (German Erramouspe Wraparound Cover), $3.99
Dark Gods #4 (Michael DiPascale Deity Cover), $3.99
BIG FINISH
Doctor Who Mistfall Audio CD, $24.99
Doctor Who The Exxilons Audio CD, $18.99
Doctor Who The Romance Of Crime And The English Way Death Limited Edition CD, $52.99
BLEEDING COOL
Bleeding Cool Magazine #15, $4.99
BONGO COMICS
Futurama Comics #74, $2.99
BOOM! STUDIOS
Abigail And The Snowman #3 (Of 4)(Cover A Roger Landridge), $3.99
Adventure Time #37 (Cover A Troy Nixey), $3.99
Adventure Time #37 (Cover B Jerry Gaylord), $3.99
Adventure Time #37 (Cover C Justin Hillgrove), AR
Adventure Time Mathematical Edition Volume 5 HC, $24.99
Burning Fields #1 (Colin Lorimer 2nd Printing Variant Cover)(not verified by Diamond), $3.99
Clive Barker's Nightbreed #10 (Cover A Riley Rossmo), $3.99
Curb Stomp #1 (Of 4)(Cover A Tula Lotay), $3.99
Curb Stomp #1 (Of 4)(Cover B Trevor Hairsine), AR
Curb Stomp #1 (Of 4)(Cover C Marie Bergeron), AR
Dawn Of The Planet Of The Apes #4 (Of 6)(Cover A Christopher Mitten), $3.99
Dawn Of The Planet Of The Apes #4 (Of 6)(Cover B Infection Graffiti Design), AR
Evil Empire #11 (Cover A Jay Shaw), $3.99
George Perez's Sirens #1 (George Perez Baltimore Comic Con Variant Cover), $9.99
George Perez's Sirens #3 (Cover A George Perez & Bob Wiacek), $3.99
George Perez's Sirens #3 (Cover B George Perez), AR
George Perez's Sirens #3 (Cover C George Perez), AR
George Perez's Sirens #3 (Cover D George Perez), AR
Munchkin #2 (Cover A Ian McGinty), $3.99
Munchkin #2 (Cover B Tyler Crook), AR
Returning TP, $14.99
Steven Universe #1 (Amber Rogers Baltimore Comic Con Variant Cover), $9.99
Teen Dog #1 (Of 8)(Jake Lawrence NYCC Variant Cover), $9.99
Thomas Alsop #1 (Of 8)(Peter Snejbjerg NYCC Variant Cover), $9.99
Uncle Grandpa #1 (Allison Strejlau NYCC Variant Cover), $9.99
CINEBOOK
Melusine Volume 5 Tales Of The Full Moon GN, $11.95
COMIC SHOP NEWS
Comic Shop News #1445, AR
CREEPY CLASSICS
Monster Bash #24, $8.99
DAIKAIJU
G-Fan #108, $6.95
DANGER ZONE
Dry Spell TP (not verified by Diamond), $14.99
Zombie Tramp #8 (Andrew Pepoy Valentine's Day Variant), $4.99
Zombie Tramp #8 (Dan Mendoza Variant Cover), $4.99
Zombie Tramp #8 (TMChu Regular Cover), $3.99
Zombie Tramp #8 (TMChu Risque Variant Cover), $4.99
DARK HORSE COMICS
Captain Midnight #20, $2.99
Colder The Bad Seed #5, $3.99
Conan The Avenger #11, $3.50
Halo Escalation #15, $3.99
Manara Library Volume 6 Escape From Piranesi And Other Stories HC, $59.99
Mister X Razed #1 (Of 4), $3.99
Seraphim 266613336 Wings TP, $19.99
Tomb Raider #13, $3.99
DC COMICS
Aquaman #39 (Amanda Connor Harley Quinn Variant Cover), AR
Aquaman #39 (Paul Pelletier Regular Cover), $2.99
Arkham Manor #5, $2.99
Batman #39 (Andy Kubert Variant Cover), AR
Batman #39 (Greg Capullo & Danny Miki Combo Pack Cover), $4.99
Batman #39 (Greg Capullo & Danny Miki Regular Cover), $3.99
Batman #39 (Jill Thompson Harley Quinn Variant Cover), AR
Batman '66 #20, $2.99
Batman Eternal #47, $2.99
Batwing Volume 5 Into The Dark TP, $16.99
Bodies #8 (Of 8), $3.99
Catwoman #39 (Jae Lee Harley Quinn Variant Cover), AR
Catwoman #39 (Jae Lee Regular Cover), $2.99
Deathstroke #5 (Leonardo Manco Variant Cover), AR
Deathstroke #5 (Tony S. Daniel Regular Cover), $2.99
Earth 2 World's End #21, $2.99
Effigy #2, $2.99
Flash #39 (Amanda Conner Harley Quinn Variant Cover), AR
Flash #39 (Blank Variant Cover), AR
Flash #39 (Brett Booth Regular Cover), $2.99
Gotham Academy #5 (Karl Kerschl Regular Cover), $2.99
Gotham Academy #5 (Karl Kerschl Variant Cover), AR
Gotham By Midnight #4, $2.99
He-Man And The Masters Of The Universe Volume 4 What Lies Within TP, $14.99
He-Man The Eternity War #3, $2.99
Justice League Dark #39 (Guillem March Regular Cover), $3.99
Justice League Dark #39 (Joe Quinones Harley Quinn Variant Cover), AR
Justice League Dark Volume 5 Paradise Lost TP, $14.99
MAD Magazine #532, $5.99
Mortal Kombat X #3, $3.99
New 52 Futures End #43, $2.99
Red Lanterns #39, $2.99
Sandman Overture Special Edition #4, $4.99
Scooby-Doo Team-Up TP, $12.99
Secret Origins #10, $4.99
Sinestro #10 (Brad Walker & Andrew Hennessy Regular Cover), $2.99
Sinestro #10 (Ian Bertram Harley Quinn Variant Cover), AR
Star-Spangled War Stories Featuring G.I. Zombie #7, $2.99
Suiciders #1 (Jock Variant Cover), AR
Suiciders #1 (Lee Bermejo Regular Cover), $3.99
DENNIS DRUKTENIS PUBLISHING
Scary Monsters Magazine #96 (not verified by Diamond), $9.95
DEVILS DUE PUBLISHING
How To Self-Publish Comics SC (Master Edition)(not verified by Diamond), $19.99
Plume Volume 2 #3, $3.99
DIAMOND PUBLICATIONS
Game Trade Magazine #181 (not verified by Diamond), $3.99
Previews #318 (March 2015), $3.99
DYNAMITE ENTERTAINMENT
Art Of The Boys The Complete Covers HC, $39.99
Bob's Burgers #1 (Of 5)(Damon Wong Zombie Unicorn NYCC Variant Cover), AR
Chaos Volume 1 TP, $19.99
Django Zorro #4 (Of 7)(Cover A Jae Lee), $3.99
Django Zorro #4 (Of 7)(Cover B Francesco Francavilla), $3.99
Django Zorro #4 (Of 7)(Cover C Marc Laming), $3.99
Django Zorro #4 (Of 7)(Francesco Francavilla Virgin Variant Cover), AR
Django Zorro #4 (Of 7)(Jae Lee Black & White Variant Cover), AR
Django Zorro #4 (Of 7)(Marc Laming Black & White Variant Cover), AR
Doodle Jump Comics #6 (Cover A Steve Uy), $3.99
Doodle Jump Comics #6 (Cover B Derek Hunter), AR
Evil Ernie #1 (Tim Seeley Virgin NYCC Variant Cover), AR
John Carter Warlord Of Mars #4 (Bart Sears Black & White Variant Cover)(not verified by Diamond), AR
John Carter Warlord Of Mars #4 (Cover A Ed Benes), $3.99
John Carter Warlord Of Mars #4 (Cover B Bart Sears), $3.99
John Carter Warlord Of Mars #4 (Cover C Emanuela Lupacchino), $3.99
John Carter Warlord Of Mars #4 (Cover D Yonami), $3.99
John Carter Warlord Of Mars #4 (Ed Benes Black & White Variant Cover), AR
John Carter Warlord Of Mars #4 (Emanuela Lupacchino Virgin Variant Cover)(not verified by Diamond), AR
King Prince Valiant #1 (Of 4)(Cover A Darwyn Cooke), $3.99
King Prince Valiant #1 (Of 4)(Darwyn Cooke Black & White Variant Cover), AR
King Prince Valiant #1 (Of 4)(Rob Liefeld Black & White Variant Cover)(not verified by Diamond), AR
King Prince Valiant #1 (Of 4)(Rob Liefeld Variant Cover)(not verified by Diamond), AR
King Prince Valiant #1 (Of 4)(Rob Liefeld Virgin Variant Cover)(not verified by Diamond), AR
King Prince Valiant #1 (Of 4)(Ron Salas Black & White Variant Cover)(not verified by Diamond), AR
King Prince Valiant #1 (Of 4)(Ron Salas Variant Cover)(not verified by Diamond), AR
Legenderry A Steampunk Adventure #5 (Of 7)(Joe Benitez Ultra-Limited Virgin Variant Cover), AR
Legenderry A Steampunk Adventure #6 (Of 7)(Joe Benitez Ultra-Limited Virgin Variant Cover), AR
Legenderry Red Sonja #1 (Of 5)(Joe Benitez Virgin Variant Cover), AR
Sherlock Holmes Vs Harry Houdini #1 (Of 5)(John Cassaday Virgin NYCC Variant Cover), AR
Sherlock Holmes Vs Harry Houdini #4 (Of 5)(Cover A Aaron Campbell), $3.99
Sherlock Holmes Vs Harry Houdini #4 (Of 5)(Cover B Colton Worley), $3.99
Turok Dinosaur Hunter #12 (Bart Sears Black & White Variant Cover)(not verified by Diamond), AR
Turok Dinosaur Hunter #12 (Cover A Bart Sears), $3.99
Turok Dinosaur Hunter #12 (Cover B Jae Lee), $3.99
Turok Dinosaur Hunter #12 (Jae Lee Black & White Variant Cover)(not verified by Diamond), AR
Twilight Zone Shadow And Substance #2 (Cover A Guiu Vilanova), $3.99
Twilight Zone Shadow And Substance #2 (Cover B Francesco Francavilla), $3.99
Twilight Zone Shadow And Substance #2 (Cover C Jonathan Lau), $3.99
Twilight Zone Shadow And Substance #2 (Francesco Francavilla Virgin Variant Cover)(not verified by Diamond), AR
Twilight Zone Shadow And Substance #2 (Guiu Vilanova Black & White Variant Cover), AR
Twilight Zone Shadow And Substance #2 (Jonathan Lau Black & White Variant Cover)(not verified by Diamond), AR
Vampirella Feary Tales #1 (Of 5)(Jay Anacleto Red NYCC Variant Cover), AR
FANFARE PRESENTS BORDERLINE PRESS
566 Frames GN, $23.95
Zombre An Undead Anthology GN, $20.95
FANTAGRAPHICS BOOKS
Inner City Romance TP (not verified by Diamond), $24.99
FIRST SECOND
Princess Decomposia And Count Spatula HC, $19.99
Princess Decomposia And Count Spatula SC, $14.99
HARPER DESIGN
Monster Book Of Manga Volume 7 Steampunk TP, $25.99
HERMES PRESS
Phantom #2 (Of 6), $3.99
HUMANOIDS PUBLISHING
Metabarons HC, $59.95
IDW PUBLISHING
Airboy Archives Volume 3 TP, $29.99
Creature Cops Special Varmint Unit #2 (Of 3)(Cover A Fernando Melek), $3.99
D4VE #1 (Of 5)(Cover A Fiona Staples), $3.99
D4VE #1 (Of 5)(Cover RI Valentin Ramon), AR
D4VE #1 (Of 5)(Cover SUB Valentin Ramon), $3.99
Dead Squad #4 (Cover A Blond), $3.99
G.I. JOE Snake Eyes Agent Of Cobra #2 (Of 5)(Cover A Paolo Villanelli), $3.99
G.I. JOE Snake Eyes Agent Of Cobra #2 (Of 5)(Cover SUB Drew Johnson), $3.99
G.I. JOE Volume 1 The Fall Of G.I. JOE TP, $17.99
Galaxy Quest The Journey Continues #2 (Of 4)(Cover A Nacho Arranz), $3.99
Galaxy Quest The Journey Continues #2 (Of 4)(Cover SUB Mal Gardiner), $3.99
Garbage Pail Kids Love Stinks #1 (One Shot)(Cover A Mark Pingatore), $3.99
Garbage Pail Kids Love Stinks #1 (One Shot)(Cover DC Dean Haspiel), $4.99
Garbage Pail Kids Love Stinks #1 (One Shot)(Cover RI John Pound), AR
Haunted Horror #15 (Cover A Bernard Baily), $3.99
Joe Frankenstein #1 (Of 4)(Cover A Graham Nolan), $3.99
Joe Frankenstein #1 (Of 4)(Cover SUB Graham Nolan), $3.99
Judge Dredd Anderson Psi-Division TP, $17.99
My Little Pony Adventures In Friendship Volume 2 HC, $9.99
Orphan Black #1 (Cover A Cat Staggs), $3.99
Orphan Black #1 (Cover B Cat Staggs), $3.99
Orphan Black #1 (Cover C Cat Staggs), $3.99
Orphan Black #1 (Cover D Cat Staggs), $3.99
Orphan Black #1 (Cover E Cat Staggs), $3.99
Orphan Black #1 (Cover F Cat Staggs), $3.99
Orphan Black #1 (Cover G Cat Staggs), $3.99
Orphan Black #1 (Cover H Cat Staggs), $3.99
Orphan Black #1 (Cover RI Nick Runge), AR
Orphan Black #1 (Cover SUB Photo), $3.99
Orphan Black #1 Complete 8 Cover Box Set, $29.99
Star Trek #42 (Cover A Cat Staggs), $3.99
Star Trek #42 (Cover SUB Photo), $3.99
Teenage Mutant Ninja Turtles #43 (Cover A Cory Smith), $3.99
Teenage Mutant Ninja Turtles #43 (Cover B Kevin Eastman), $3.99
Teenage Mutant Ninja Turtles #43 (Cover RI Aaron Conley), AR
Teenage Mutant Ninja Turtles Mutanimals #1 (Of 4)(Cover A Andy Kuhn), $3.99
Teenage Mutant Ninja Turtles Mutanimals #1 (Of 4)(Cover SUB Ben Bates), $3.99
Teenage Mutant Ninja Turtles New Animated Adventures #20 (Cover A Dario Brizuela), $3.99
Teenage Mutant Ninja Turtles New Animated Adventures #20 (Cover SUB Derek Charm), $3.99
Transformers Drift Empire Of Stone #4 (Of 4)(Cover A Guido Guidi), $3.99
Transformers Drift Empire Of Stone #4 (Of 4)(Cover SUB Sarah Stone), $3.99
Zombies Vs Robots #2 (Cover A Ashley Wood), $3.99
Zombies Vs Robots #2 (Cover SUB James Stokoe), $3.99
IMAGE COMICS
Chew #46, $2.99
Chew Volume 9 Chicken Tenders TP, $14.99
Criminal Special Edition #1 (One Shot)(Cover A Comic Format), $4.99
Criminal Special Edition #1 (One Shot)(Cover B Magazine Format), $5.99
Cyber Force #11 (Cover A Marc Silvestri), $2.99
Cyber Force #11 (Cover B Marc Silvestri), $2.99
Danger Club #7, $2.99
Fade Out Volume 1 TP, $9.99
Graveyard Shift #3 (Of 4), $3.50
Hinges Volume 1 Clockwork City TP, $15.99
Howtoons [Re]Ignition Volume 1 TP, $9.99
Intersect #4 (Cover A Ray Fawkes), $3.50
Intersect #4 (Cover B Declan Shalvey), $3.50
Low #6, $3.50
ODY-C #3, $3.99
Rasputin #5, $3.50
Rising Stars Compendium TP (New Printing), $69.99
Roche Limit #5, $3.50
Sex #20, $2.99
Sex Criminals Volume 2 Two Worlds One Cop TP, $14.99
Superannuated Man #6 (Of 6), $3.99
They're Not Like Us #3, $2.99
Thief Of Thieves #26, $2.99
Walking Dead Volume 11 HC, $34.99
Wicked + The Divine #8 (Cover A Matthew Wilson), $3.50
Wicked + The Divine #8 (Cover B Brandon Graham), $3.50
Zero Volume 3 Tenderness Of Wolves TP, $14.99
KODANSHA COMICS
Maria The Virgin Witch Volume 1 GN, $10.99
Wallflower Volume 34 GN, $10.99
MAD NORWEGIAN PRESS
Chicks Dig Gaming A Celebration Of All Things Gaming By The Women Who Love It SC (not verified by Diamond), $14.95
MAGNETIC PRESS
Love Volume 1 The Tiger HC, $17.99
MARVEL COMICS
All-New Captain America Fear Him #4 (Of 4), $3.99
All-New Invaders #15, $3.99
All-New X-Men #38 (Andrea Sorrentino & Marcelo Maiolo Regular Cover), $3.99
All-New X-Men #38 (Andrea Sorrentino Cosmically Enhanced Variant Cover), AR
All-New X-Men #38 (Phil Noto Variant Cover), AR
Amazing Spider-Man #15 (Giuseppe Camuncoli Regular Cover), $3.99
Amazing Spider-Man #15 (Simone Bianchi Variant Cover), AR
Amazing X-Men #17, $3.99
Avengers And X-Men Axis HC, $49.99
Avengers Time Runs Out Volume 2 HC (Premiere Edition), $24.99
Black Panther Who Is The Black Panther TP (New Printing), $24.99
Daredevil #13 (Chris Samnee Regular Cover), $3.99
Daredevil #13 (Phil Noto Variant Cover), AR
Dark Tower The Drawing Of The Three The Prisoner TP, $19.99
Darth Vader #2 (Adi Granov Regular Cover), $3.99
Darth Vader #2 (Dave Dorman Variant Cover), AR
Darth Vader #2 (Whilce Portacio Variant Cover), AR
Deadpool #42 (Mark Brooks Regular Cover), $3.99
Deadpool #42 (Phil Noto Variant Cover), AR
Death Of Wolverine The Logan Legacy TP, $17.99
Fantastic Four #643 (Chris Samnee Spotlight Variant Cover), AR
Fantastic Four #643 (Leonard Kirk Regular Cover), $3.99
Fantastic Four #643 (Michael Golden Connecting Variant Cover), AR
Infinity #1 (Of 6)(Jonathan Hickman Signed Edition)(Dynamic Forces), AR
Inhuman #12 (Phil Noto Variant Cover), AR
Inhuman #12 (Ryan Stegman Regular Cover), $3.99
Kick-Ass 3 TP, $24.99
Marvel Previews #139 (March 2015 For Products On-Sale May 2015), $1.25
Marvel Universe Ultimate Spider-Man Web Warriors #4, $2.99
Men Of Wrath By Jason Aaron #5 (Of 5)(Alex Ross Variant Cover), AR
Men Of Wrath By Jason Aaron #5 (Of 5)(Ron Garney Regular Cover), $3.50
New Avengers #30 (Alan Davis Regular Cover), $3.99
New Avengers #30 (Phil Noto Variant Cover), AR
New Avengers Volume 3 Other Worlds TP, $19.99
S.H.I.E.L.D. #3 (Alan Davis Variant Cover), AR
S.H.I.E.L.D. #3 (Julian Totino Tedesco Regular Cover), $3.99
S.H.I.E.L.D. #3 (Phil Noto Variant Cover), AR
Secret Avengers #13, $3.99
Spider-Gwen #1 (Adam Hughes Variant Cover), AR
Spider-Gwen #1 (Blank Variant Cover), AR
Spider-Gwen #1 (Javier Rodriguez Regular Cover), $3.99
Spider-Gwen #1 (Kris Anka Variant Cover), AR
Spider-Gwen #1 (Phantom Variant Cover), AR
Spider-Gwen #1 (Skottie Young Variant Cover), AR
Spider-Man 2099 #9, $3.99
Spider-Man And The X-Men #3 (Declan Shalvey Variant Cover), AR
Spider-Man And The X-Men #3 (Stacey Lee Regular Cover), $3.99
Star Wars #1 (John Cassaday 3rd Printing Variant Cover)(not verified by Diamond), $3.99
Superior Iron Man #5, $3.99
Thor Annual #1 (Marguerite Sauvage Variant Cover), AR
Thor Annual #1 (Rafael Albuquerque Regular Cover), $4.99
Thor Annual #1 (Rob Guillroy Variant Cover), AR
Thor Epic Collection Volume 4 To Wake The Mangog TP, $34.99
Unbeatable Squirrel Girl #1 (Erica Henderson 2nd Printing Variant Cover)(not verified by Diamond), $3.99
Uncanny Avengers #2 (Daniel Acuna Regular Cover), $3.99
Uncanny Avengers #2 (Phil Noto Variant Cover), AR
Uncanny Avengers #2 (Simone Bianchi Variant Cover), AR
Wolverines #8, $3.99
ONE PEACE BOOKS
Whispered Words Volume 3 GN (not verified by Diamond), $16.95
ONI PRESS
Life After #7, $3.99
PAPERCUTZ
LEGO Legends Of Chima Volume 4 The Sting Of The Scorpion Tribe HC, $12.99
WWE Slam City Volume 2 The Rise Of El Diablo HC, $12.99
WWE Slam City Volume 2 The Rise Of El Diablo SC, $7.99
REBELLION
Dredd Urban Warfare HC, $20.99
ROBOT PAPER
Henchmen I Henchbot #2 (Of 6), $3.50
Henchmen I Henchbot #3 (Of 6), $3.50
SCHOLASTIC
Minecraft Official Mojang Blockopedia HC, $49.99
SEVEN SEAS ENTERTAINMENT
Devils And Realist Volume 4 GN, $12.99
Monster Musume Volume 6 GN, $12.99
Nurse Hitomi's Monster Infirmary Volume 1 GN, $12.99
Sacred Blacksmith Volume 7 GN, $13.99
SUPER GENIUS
WWE Superstars #12, $3.99
TITAN COMICS
Doctor Who The Twelfth Doctor #5 (Alice X Zhang Regular Cover), $3.99
Doctor Who The Twelfth Doctor #5 (Subscription Photo Cover), $3.99
TOMART PUBLICATIONS
Tomarts Action Figure Digest #206 (not verified by Diamond), $6.00
TWOMORROWS PUBLISHING
Alter Ego #131, $8.95
Modern Masters Volume 30 Paolo Rivera SC, $15.95
UNIVERSITY PRESS OF MISSISSIPPI
Chester Brown Conversations SC (not verified by Diamond), $30.00
Comics And Language Reimagining Critical Discourse On The Form SC (not verified by Diamond), $30.00
Comics And Narration SC (not verified by Diamond), $30.00
Drawing From Life Memory And Subjectivity In Comic Art SC (not verified by Diamond), $30.00
VALIANT ENTERTAINMENT
Quantum And Woody Deluxe Edition Volume 1 HC, $39.99
Quantum And Woody Must Die #2 (Of 4)(Cover A Mike Hawthorne), $3.99
Quantum And Woody Must Die #2 (Of 4)(Cover B Johnnie Christmas), $3.99
Quantum And Woody Must Die #2 (Of 4)(Cover C Sina Grace), AR
VIZ MEDIA
Gangsta Volume 5 GN (not verified by Diamond), $12.99
Jojo's Bizarre Adventure Part 1 Phantom Blood Volume 1 HC, $19.99
WALTER FOSTER
Learn To Draw Mickey Mouse And Friends Through The Decades SC, $19.95
YEN PRESS
Ani-Imo Volume 2 GN, $13.00
Barakamon Volume 3 GN, $15.00
BTOOOM Volume 9 GN, $14.00
Certain Magical Index Volume 2 Light Novel SC, $14.00
Gou-Dere Sora Nagihara Volume 2 GN, $15.00
High School DxD Volume 4 GN, $13.00
Judge Volume 6 GN, $12.99
ZENESCOPE ENTERTAINMENT INC
Grimm Fairy Tales Presents Jungle Book Fall Of The Wild #3 (Of 5)(Cover A Carlos Granda), $3.99
Grimm Fairy Tales Presents Jungle Book Fall Of The Wild #3 (Of 5)(Cover B Alfredo Reyes), $3.99
Grimm Fairy Tales Presents Jungle Book Fall Of The Wild #3 (Of 5)(Cover C Paolo Pantalena), $3.99
Grimm Fairy Tales Presents Jungle Book Fall Of The Wild #3 (Of 5)(Cover D Tina Valentino), $3.99
Grimm Fairy Tales Presents Little Mermaid #1 (Of 5)(Cover A David Finch), $3.99
Grimm Fairy Tales Presents Little Mermaid #1 (Of 5)(Cover B Jason Metcalf), $3.99
Grimm Fairy Tales Presents Little Mermaid #1 (Of 5)(Cover C Mirka Andolfo), $3.99
Grimm Fairy Tales Presents Little Mermaid #1 (Of 5)(Cover D Meredith Finch), AR
Grimm Fairy Tales Presents Robyn Hood Volume 1 Riot Girls TP, $15.99