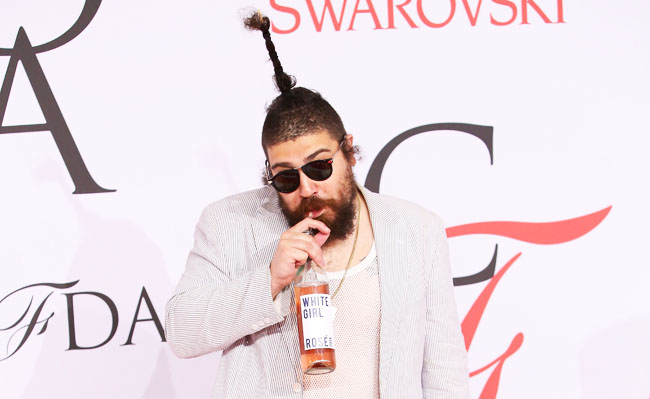 The fallout from internet "aggregator" and joke thief The Fat Jew, also known as Josh Ostrovsky, has been glorious. Just a few days ago, Ostrovsky was sitting at the top of the world, with a Comedy Central pilot in the works. But it was only after he was signed on to Hollywood talent company CAA that people finally reached their breaking point, and many fans, joke theft victims, and comedians (most notably Patton Oswalt) began railing against Ostrovsky, pouring gasoline on a potentially career-ending backlash which quickly caused Comedy Central to drop him.
But now Ostrovsky is speaking out. In an exclusive interview with Vulture, the man known as The Fat Jew says he's really sorry for stealing all of those jokes. But is he, really? Here are some of the delightfully insane and delusional quotes we mined.
Why he now realizes the error of his ways:
At the end of the day, I get it: I should have been providing attribution for all posts. It's always been important to me. The internet is a vast ocean of stuff, and sometimes it's hard to find the original source of something. I now realize that if I couldn't find a source for something, I probably shouldn't have posted it in the first place.
(It's worth noting that a lot of the stuff The Fat Jew posts are literally screencapped tweets with the author's handle cropped out.)
On his genesis:
I come from a writing background. That was my genesis. I've been doing moronic stuff since before social media existed. I was sitting in hot tubs full of pasta, and interviewing rappers about whether they liked sleepovers and making them uncomfortable.
The bulk of his original ideas boil down to sitting in hot tubs of food, actually:
But also, I do make original content all over the place. I made a video about teaching homeless people to take spin classes. I do rapper interviews. I've been sitting in hot tubs of guacamole for years.
On tweeting someone else's joke word for word:
That was a joke that I'd heard. I heard it, and it was funny, and I wrote it down. The internet was a different landscape then. It didn't feel like things were researchable.
He seems amazingly adept at using Twitter for someone with no apparent knowledge of Google, or search engines in general. Welp, guess that clears it up for me. Lest you think we're taking things out of context to make him sound worse than he is, I invite you to read the whole interview, which has been brought to you by delusional grandeur.
(Via Vulture)