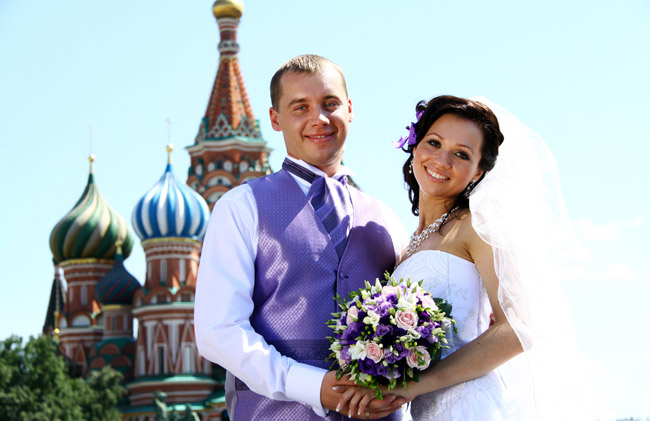 The topic of mail order brides is an endlessly fascinating one, so much so that TLC even has a series about them. (Although that's not exactly surprising because what sort of non-traditional family won't TLC exploit?) One has to wonder what makes a woman want to leave behind everything she knows to go live with a virtual stranger in a strange country, not to mention what that says about the man who "orders" his wife. Yet statistically, most marriages that are the result of mail order brides amazingly seem to work out.
One Redditor, who I assume is in no way contemplating a mail order bride of his own, asked the people of Reddit: "Redditors who married mail-order brides, what surprised you the most when you started living with your spouse?" Another person responded with some "helpful" information from a website called MailOrderBridePrices.com, which states that the average total cost will run you anywhere from $1,000 to $15,000, depending on the country and the agency, which includes everything from catalogs, translation fees, a courting visit, and Visa fees.
But what happens next? Here are some of the most interesting responses, with a reminder that this is Reddit so everything should be taken with at least a few grains of salt.
This first one sums up what most people probably think about when they picture someone who orders a mail order bride:
I worked with a guy that married a mail order bride from Thailand. Guy was one of the creepiest, most disgusting person I've met since he rarely took a shower or brushed his teeth. I saw his then wife a couple of times, she was extremely attractive and I wondered how she managed to endure that guy…

Anyways, after several years of being married, she got the Swiss citizenship and divorced him. He had bought tons of houses and property in Thailand but were registered in her name since foreigners can't legally own property in Thailand (as far as I know), she basically did a long term scam and got the best of him in the end.

Now he lives in single bedroom apartment while his ex-wife is back in Thailand.
Turning the tables, this one seems to have had a happy ending:
My uncle did, when he was 65. His bride was 37.

For a start it was weird and he tells how she'd cook meals and stand behind him so she couldn't be seen but could attend to anything he wanted. she would insist he finish before a massage and being tucked into bed. She seemed under the impression that a man was to be kept like a king and she was there for food and sex.
She would only eat for herself after he was asleep. He tells us he had to metaphorically beat the submissiveness out of her.
Now 14 years later they have three kids, she is fucking insane in that fun-insane kind of way, and more a part of the family than most of the extended family I grew up with. Cultures well and truly blended beautifully.
And when she visits, I get substantially fatter.
This seems about right:
For an acquaintance of mine, the biggest surprise was finding out that when his "wife" was sending money "back home to her family", it was to her husband (not "ex") and kids in the Philippines.
And here's one about a guy who ordered a replacement bride when the first one fell ill. ¯\_(ツ)_/¯
I work in the oil field and a common theme is divorce. A coworker was divorced by his wife of 20 yrs and she took half of everything. He later decided to get a mail order bride from Brazil (he was working offshore there at the time). She was smoking hot but 6 yrs later developed terminal cancer. Before she died he ordered ANOTHER bride from Thailand and she took over the regular house chores AND took care of the Brazilian.

My dad married a girl from the Philippines years ago after my parents divorced and at first I was concerned about the situation and also felt angry about the whole situation (parents breaking up, him starting a new life and family, etc) but they have been married for 10 or 12 years now, have 3 awesome kids, and she does a great job at picking out gifts for our son on birthdays and Christmas. Shes very nice and has done good at changing some of the bad things about my dad. I'm very happy for them.
Redditor maleorder02271983 says that aside from this anonymous post, the only person who knows how they met is his brother:
I'm 35 have mild-moderate cerebral palsy, not bad enough to need a walking apparatus. Anyways when I was about 27 I started looking. It took me like a year and a half and about 22k or so to do it. I have a decent job and make about 60k a year. She has lived in the US prior and her student visa got denied she was sent back home for 4 years. So she spoke good English and was educated.

I told her that I was looking for a best friend type relationship when we started talking online and through skype. That I didn't want her to stay with me if that wasn't what she wanted. We've been together 5-6 years now. It is a couples relationship. She is very out of my league.
This person realized that his mother is/was a mail order bride after reading through the responses. Awkward!
After my dad's divorce from his first wife, he did a lot of mixers and singles parties. He was freaking out that he was almost 50 and was the only one out of his siblings without a family. My favorite part of this story is that he said the last straw before he turned to "dating magazines" was when he went to a dance for singles and had to escape out of a bathroom window from a very agressive gay man. So he sent letters to all the women he was interested in and then planned his trip to meet all of them in their respective countries. The woman before he met my mom actually tried to trap him in a room when she found out there were other girls he was planning to see. I'm glad he kept going after that because he went on to meet my mom in The Philippines. They had a connection and began dating until he brought her back to the states and got married.
I'll finish on a "positive" note from a guy who just celebrated his two year wedding anniversary, but there are dozens more where these came from if you want to get lost in the thread for a few hours.
It had been 3-4 months or so when I got into contact with my soon-to-be-wife. Let's call her Amy. Amy was really sweet and all her photos made her look gorgeous. So being young and naive, I asked a lawyer friend of mine to help me with all the documents necessary to get her into the states. So another 8 months go by and we are ready to pull the trigger on this. All in all, the process of finally getting her into the states costed me roughly $55,000. The day came when I picked her up from the airport and she was absolutely gorgeous. I really couldn't believe it. Her voice was as sweet and gentle in person just like it was over the phone.

The first few days was pretty awkward. I told her to make herself comfortable in the guest bedroom till we can figure something out. To be honest, it was pretty intimidating to think she was technically my wife. However, several days go by and we started to get along. We went out almost every night and I took her to all the local attractions. About a month goes by and we start sharing the bedroom. We are really starting to get along and I am genuinely falling in love with this woman. Several more months go by and we are getting along great. We are going to cooking classes together, go hiking together, and we also learned how to surf. During that time she got a job working at the animal shelter. What made her really special in my eyes was that she felt really bad because I was spending so much money, so she wanted to give me rent money. I told her to save it up, and once a month spend that money on a weekend trip for us. So even till this day, we go out on a weekend trip once a month.
(Via BroBible)