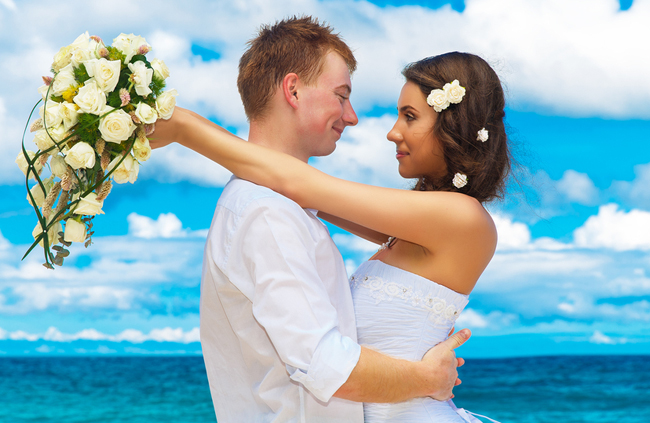 A British woman found herself living a nightmare after discovering wedding photos of her husband of seven years to his new wife. The only problem was, they were still married at the time and she had no idea there was another woman in the picture. Liz Linham, 37, thought her marriage was perfectly happy and that her husband Adrian, 43, just had to travel a lot due to his profession as a scuba diving instructor.
As it turns out, for three years of these so-called "business trips," he was living with another woman, Hayley Totterdell, only 16 miles away. Likewise, Totterdell had no idea her boo was married to someone else.
It wasn't until her mother-in-law contacted her to express condolences over her "divorce" and her son's marriage to another woman — three months after Linham married his new lady on the very beach he and Liz had spent his honeymoon — that the pieces start to fall in to place.
Via the Daily Mail:
'I got a letter from his mum on 21 August 2014,' she said. 'It said that she was sorry to hear Adrian and I had gotten divorced and that she hoped I was dealing with it ok.'

She then went on to say that she had been on Facebook and seen Linham's wedding pictures to Hayley and hoped that his new marriage hadn't affected me too much.'

She added: 'It was such a huge shock to me, I went on to Facebook and found the pictures pretty much straight away.
If you're wondering, Adrian's mother did not attend his third wedding (as he was married once previous to Liz) because part of the web of lies he told to keep the two women from finding out about one another was telling his new bride that his mother had died. Likewise, he even used the same best man at both weddings, telling him that he and Liz had already divorced.
This story sort of has a happy ending, however. Because this is the United Kingdom, and they do not screw around when it comes to bigamy, Linham reported her husband to the authorities and his ass is currently serving a 17 week sentence in jail. What I can't figure out is how it took her so long to figure it all out when literally all it took was just "going on Facebook." If your husband is traveling for work weeks at a time, you check that sh*t as regularly as the weather.
Via the Daily Mail and NY Daily News