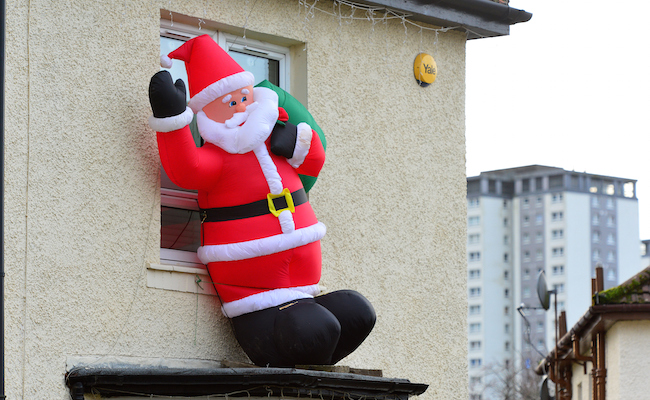 Not so tough without your inflatable reindeer buddies, are you inflatable Santa?
Two dudes in Essex County, N.J. are basking in the righteous glow that can only be generated when you whoop a lawn decoration's ass. NJ.com reports that two unidentified males were spotted by a neighbor attacking a blow-up Santa before driving away in their Jeep. Why? The motive hasn't been determined yet, so let's all wildly assume it's a sexual release thing.
Here's how the Cedar Grove Police Department summed up the incident in their police blotter:
On Wednesday, December 9th. at 8:38 p.m., an Anderson Parkway resident reported an act of criminal mischief to a Christmas decoration on his front lawn. The victim reported a neighbor observed a dark Jeep Cherokee stop in front of his home, at which time two male occupants exited and began to punch his inflatable Santa decoration. The pair reentered the vehicle and were last seen traveling towards Stevens Avenue. An inspection of the decoration revealed it had been punctured in multiple places. Police conducted an area search for the suspects with negative results. The value of the damaged decoration was approximately $100.00.
Multiple punctures! Whoa, it's like these bad boys aren't even fazed by the prospect of getting inflatable coal in their stockings!
As noted, the two perpetrators have not been found. Hopefully these gents are apprehended before they go on a run of slaying elves on shelves.
(via NJ.com)