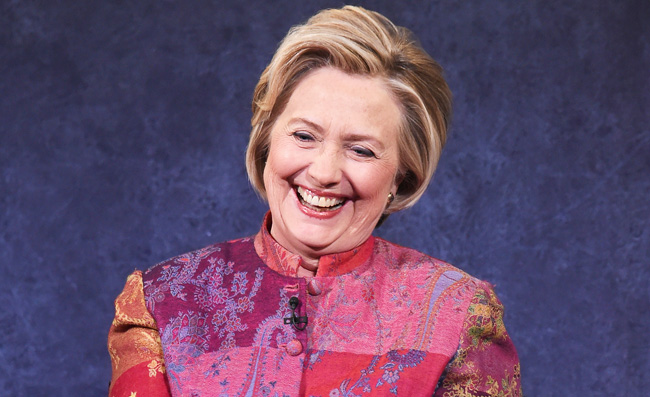 Vanity Fair is currently running a series of videos aimed to give political figures such as President Trump, Sarah Huckabee Sanders, and White House chief economic adviser Gary Cohn "humorous" New Year's resolutions read by various champagne-swilling editors of the site's news vertical, Hive. Likewise, the staffers came up with six resolutions for Hillary Clinton that isn't going over so well with people.
Midway into the video, after some suggestions that Clinton work on a sequel for her book to be called "What the Hell Happened," and jokes about not forming an exploratory committee for 2020 and taking photos in the woods, came the real kicker. Vanity Fair editor Maya Kosoff suggested that the former Secretary of State take up a hobby in the news year. "Volunteer work, knitting, improv comedy … literally anything that will keep you from running again," she said.
While the piece was intended to be in good humor, a lame duck joke that a woman with a laundry list of professional accomplishments "take up knitting" after losing the 2016 presidential election obviously comes off as extremely tone deaf and sexist, even when read by a woman. As such, the tweet ratio was in full effect as many piled on to call out Vanity Fair for the questionable dig.
Current and former Clinton advisers Adam Parkhomenko and Peter Daou also weighed in on the controversy:
Kosoff responded to the backlash on Twitter late Tuesday, tweeting that she doesn't "appreciate being taken out of context to make [her] seem super sexist." "This wasn't a hillary hit piece either, fwiw! we made silly new years resolutions for a bunch of politicians," she added, but later protected her tweets.
(Via Huffington Post)