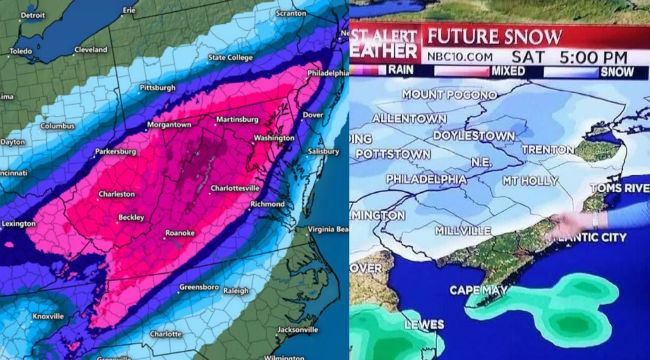 A majority of the East Coast of the United States is in the midst of a potentially historic winter storm, one of which weather forecasters have predicted could dump nearly 2 feet of snow on an estimated 85 million people. It could very well be a dangerous situation for anyone who lives in the storm's path, which began in Arkansas on Friday morning and is making its way north through southern New England.
Thankfully, whenever there's a historical weather event, we can usually count on local and national weather reporters to — accidentally? Not accidentally? Who knows? — provide levity to the situation by giving us some interesting green-screen graphics. So far, this storm has proven to be no different.
First, on Thursday evening, Ashley Feinberg of Gawker brought us the following graphic, which left very little to the imagination.
In this instance, the storm seemed to be centered around Virgina. Sorry, that's more like West Virgina. Some of the heaviest snowfall is due to hit New York some time on Friday. If you can't find New York, it's in the upper-right corner. Don't feel bad, most people can't find New York on a map. Zing!
Later, on Friday, Twitter user Chris Mucci found us this gem, which is either a wonderful photoshop, or "Big Weather" is clearly trolling us at this point.
The poor residents of Cape May are getting pounded the hardest right now. With another storm on the way, it could be just the tip of the iceberg.
Now Watch: Hot Mexican Weather Girl Breaks The Internet