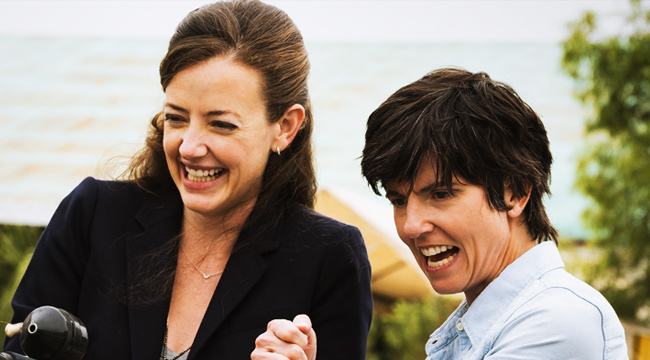 Last night, news broke that Amazon had canceled three more shows: I Love Dick, One Mississippi, and Jean-Claude Van Johnson.
In a way, this wasn't surprising. Amazon Studios recently cleaned house in its executive ranks, in part due to sexual misconduct allegations against its president, Roy Price, in part because Amazon CEO Jeff Bezos reportedly wants "the next Game of Thrones" rather than the slew of indie darlings Price and his team put together. Amazon has slowly been purging itself of many of Price's shows, including an embarrassing and costly incident where the period drama Z: The Beginning of Everything was renewed, then canceled while scripts were being written for a second season. Other shows were canceled, and Amazon declined to pick up a single one of its new pilots, including one, Sea Oak, starring Glenn Close.
Unlike some of Amazon's other niche-y shows like Transparent (which could still go away, given the turmoil in the wake of Jeffrey Tambor's own exit over sexual harassment allegations) and Mozart in the Jungle, the three that got the axe last night aren't awards players, and the first thing any new regime does is to rid itself of anything the old regime did that's not an unequivocal success. They're just the latest victims of a death by a thousand cuts.
I Love Dick was an alternately frustrating and fascinating show that managed to produce one of last year's best episodes of television (the fifth installment, "A Brief History of Weird Girls"). Jean-Claude Van Johnson had a fun self-parodying premise that may or may not have been sustainable. The one that hurts, though, is One Mississippi, Tig Notaro's autobiographical dramedy where she moves back to her hometown to be with her brother Remy (Noah Harpster) and repressed stepfather Bill (John Rothman) after the death of her mother.
This was a great show that still felt like it had a lot of story to tell, and one of the advantages of this weird, overflowing era in TV is that great shows tend to be allowed to run as long as they want, or at least get to end at a point mutually negotiated between creator and distributor. (One of my biggest Peak TV critic regrets of 2017 was not finding the time to write about the second season, other than a few tweets praising Rothman's work with Sheryl Lee Ralph as Bill's similarly uptight new girlfriend.) Season two featured a lot of complicated romance, including Tig developing a crush on her ostensibly straight radio producer Kate (played by Notaro's wife Stephanie Allynne) and Kate realizing that she's interested, and Remy falling for a single mom who treats him well but has religious views that make her a tricky fit with the rest of the family. It dealt bluntly and boldly with sexual abuse in both the past, with Tig telling her radio audience about the molestation she endured, and Remy, in turn, grappling with the collateral damage he suffered as a result; and in the present, when Kate's boss masturbates in front of her and the company fumbles around with what to do about it.

That latter plot, in hindsight, was a clear salvo at Louis CK, who was an executive producer on the series, and whose similar misdeeds came to light a few months after that episode debuted. CK's name has since been removed from the show, as it has from Better Things and Baskets. Unlike with Better Things, he hadn't been an active producer here in quite some time, and One Mississippi seemed poised to have another terrific season under the guidance of Notaro and others.
Instead, it's been swept away like much of the Price era, and it's a terrible decision, as much from a business standpoint a a creative one.
Ignore how good One Mississippi was — how warm and empathetic and curious, how lived-in it felt, how remarkable the performances (particularly by Rothman) could be — for a moment and just look at the optics. Here is Amazon, having endured a run of mortifying headlines about sexual misconduct by its executives, by the star of its flagship show, by the creator of one of its upcoming big projects (Matthew Weiner's The Romanoffs), and by the head of the studio responsible for another project that was supposed to be upcoming (an untitled David O. Russell series starring Robert De Niro and Julianne Moore that fell apart in the wake of the Harvey Weinstein revelations). And they are not only dumping almost all(*) of their shows with female leads and/or creators (see also Good Girls Revolt, which also dealt with sexism and sexual harassment, and was canceled by Price only weeks after it debuted), they are dumping this one in particular, which deals on the regular with the very kind of issues that have been making the company look very, very bad for quite some time now?
(*) UPDATE: Amazon would like to point out that they still have Golden Globe winner The Marvelous Mrs. Maisel, and an overall deal with its creator Amy Sherman-Palladino, as well as overall deals with Transparent and I Love Dick creator Jill Soloway and Catastrophe co-creator/star Sharon Horgan.
Who does that? This is not a particularly expensive show, with a small and mostly anonymous cast; the cost of a third season would have been a rounding error in the $200 million Amazon spent for the TV rights to Lord of the Rings — just the rights, without any creative team or concept attached, and not however much it will cost to actually make that show, in the most literal response anyone could have possibly made to Bezos' demand for a new Game of Thrones — or could have been funded with the loose change in Bezos's couch. Even if they wanted to get rid of all the other artsy, little-watched critical favorites that Price ordered — Transparent included, since the Tambor mess would have provided cover (and still might) — keeping this one around would have been a huge PR win. It would have been a way for the new regime to say, "Look, we're moving in a different direction, and we want more accessible and popular shows. But we also understand what's been going on in the culture — and at our company in particular — and we feel it's important to keep a show that addresses it with as much thought and grace as One Mississippi does." Costs almost nothing, pays huge dividends for the brand, maybe even brings new eyeballs to the show. Easy.
Instead, Amazon cut bait on it with all the other shows, and now we have to hope that perhaps FX — whose studio co-produced the series, and which has a bit of its own ongoing image rehab to do in the wake of its long affiliation with CK — might rescue it, even though that's not usually the kind of thing that Mayor of Television John Landgraf does.
Television is a business first and an artistic medium second. I get that. Nobody knows how many people actually watched either season of One Mississippi, because Amazon doesn't release viewing figures, but it's not hard to guess that the figures were pretty small. But branding and publicity are a part of having a business, and there are some products you keep around because they make you look good, even if they don't make much, or any, money. This would have been a simple way for Amazon to do that in the midst of the ongoing mess and this awkward pivot into blockbuster programming.
But no. This stinks.
Alan Sepinwall may be reached at sepinwall@uproxx.com. He discusses television weekly on the TV Avalanche podcast. His new book, Breaking Bad 101, is on sale now.