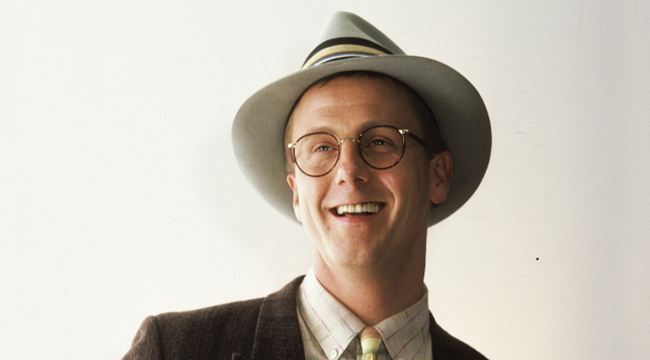 NBC's Thursday primetime lineup from 1984-1986 is on the short list of best regularly-scheduled nights of TV ever, along with a couple of other NBC Thursday groupings, CBS' early '70s Saturday comedy lineup, and that one year HBO aired The Sopranos and Deadwood back to back. It's a stunning collection of talent and influence. The Cosby Show, well before its star was outed as a serial sexual predator, was the biggest hit of its time and credited with both reviving the fading sitcom genre and helping to reshape American attitudes about race. Cheers wrote the playbook for all the will-they-or-won't-they games TV romantic comedies have been playing in the decades since, and could go punchline-for-punchline with any live-action sitcom in history. Hill Street Blues rewrote the rules for what television dramas could be and do, starting us on the path to shows like The Wire, and dominated the Emmys for much of its run. And Family Ties made a gargantuan star, on both the big and small screen, of Michael J. Fox.
In that iconic lineup, it's easy to overlook the comedy tucked in between Cheers and Hill Street, though Night Court did okay for itself, running nine seasons and making a decent showing at the Emmys, with John Larroquette winning four supporting actor trophies in a row and then withdrawing his name from consideration to give someone else a chance. But if it wasn't as historically important as the other four, Night Court was still a delight for many reasons, not least of which was the warm and silly presence of its star, Harry Anderson, who died yesterday, too young at 65.
Anderson's path to his own show was both conventional and not. He was a stand-up comedian, but one who built his act around magic, frequently performing in a fedora, suit, and suspenders like he was some sharp on the street about to take your money in a game of three-card monte. The routine was unusual enough to get noticed by the big players, including frequent stints on The Tonight Show. Here he is in the Night Court days reading aloud from a magic catalog for an utterly charmed Johnny Carson:
Between The Tonight Show, Saturday Night Live (where he did a number of stand-up comedy segments during the Eddie Murphy years), and a recurring role on Cheers as con man Harry the Hat, Anderson was a familiar face on NBC, and thus an easy choice in time to be rewarded with his own show.
Harry the Hat was a classic grifter, always three steps ahead of not only the slow-witted Coach, but even Sam Malone, who in the early days was presented as pretty street-smart himself:
Harry the Hat only appeared a half dozen times in the run of the series, but it felt like more because Anderson made Harry feel so assured and lived-in, and because each appearance was crafted to show off the verbal and physical dexterity of actor and character. Anderson played the heel at first, but the Cheers writers realized Harry could be even more potent as an ally to the gang at the bar, most memorably when Coach recruits him to help take down another con man, and things seem to be going very badly:
What's impressive about Anderson's transition from Harry the Hat to Night Court judge Harold T. Stone is that he wasn't a master thespian. Anderson was again playing a fedora-wearer fond of close-up magic, yet the characters were emotional opposites: Harry the Hat a cool and ruthless hustler (even on behalf of the good guys on occasion), Harry Stone a warm and gentle overgrown kid basking in his dream job and finding a way to enjoy every minute of it.

Stone was that rare sitcom beast: the straight man character who was just as funny as the lunatics he was there to tether to reality. He was almost always having a good time on the bench, which in turn made Night Court itself even more fun to watch. Here, for instance, is Judge Stone struggling to wipe the smile off his face when the Wheeler family (played by a pre-Star Trek: The Next Generation Brent Spiner and Annie O'Donnell) return to his courtroom again to share their latest astonishing bit of bad luck:
Spiner, O'Donnell, and Larroquette have most of the actual jokes, but the twinkle in Anderson's eye and the lilt in his voice (coupled with the obvious pleasure Charles Robinson's court clerk Mac feels at bringing these weirdos back in front of his boss) takes the scene to another level.
Night Court hung around long enough to have a huge stable of semi-regulars like the Wheelers, many of them with unconventional relationships with Harry. It's a running gag early on, for instance, that Harry keeps missing out on chances to meet his favorite singer, Mel Tormé, but within a few seasons, he and the Velvet Fog were friends. John Astin appeared several times as Buddy Ryan, whom Harry believed to be his mother's mentally ill second husband, but was — as was clear to anyone who saw the overlap of oddball glee and geniality between Harry and Buddy — revealed in time to be his biological father:
Anderson was keenly aware of his strengths and weaknesses as a performer, and knew how to stay in his lane even when he seemed to be venturing way outside it. He played one of the adults in the 1990 ABC miniseries version of Stephen King's It, but it was the comedian of the group, "Beep Beep" Richie Tozier. He played the title role in a 1996 made-for-TV remake of Harvey, and if he was never going to be mistaken for Jimmy Stewart, there was an affable gentleness to both men that made you understand why he'd be the pick to play a new version of Elwood P. Dowd, who claimed his best friend was a six-foot-tall invisible rabbit. (It's a wonder Anderson's Elwood never busted out Buddy Ryan's "But I'm feeling much better now!" catchphrase.) And before he largely lost interest in acting, he played a fictionalized version of humorist Dave Barry for four years on CBS' Dave's World.
Growing up on that mid-'80s NBC lineup, I could understand why Cheers and the others were considered more important, or simply better, than Night Court (which got relocated to Wednesdays after a few years, where it would eventually provide a safe place for a weird new show called Seinfeld to find a voice and audience). But I was also happy that Night Court was the last comedy to air each Thursday, because the way Judge Harold T. Stone ran his courtroom, and the joyful way that Harry Anderson carried himself in the role, inevitably made it the most fun and happy way to finish off those great, great nights.
Alan Sepinwall may be reached at sepinwall@uproxx.com. He discusses television weekly on the TV Avalanche podcast. His new book, Breaking Bad 101, is on sale now.