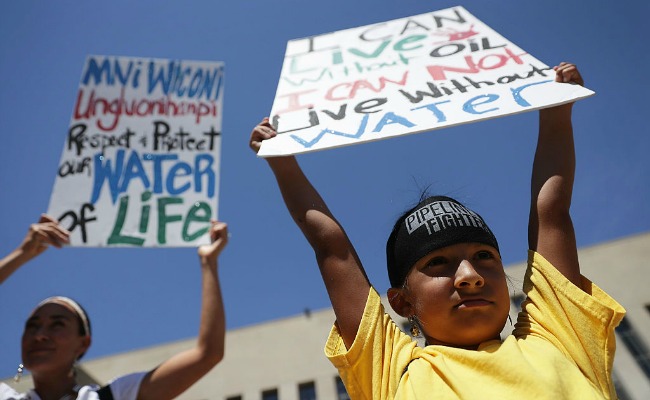 Since April, the Standing Rock Sioux Native American tribe has been protesting the construction of an oil pipeline (and last weekend escalated) near their North Dakota reservation, claiming that it would violate several federal laws, compromise their water supply and disturb ancient sites. Protestors have been going up against the Army Corps of Engineers over the $3.8 billion Dakota Access Pipeline, garnering the attention of celebrities like Shailene Woodley and the cast of Justice League.
On Friday, their request for a temporary injunction was denied by U.S. District Judge James Boesberg. However, The Army and the Departments of Justice and the Interior released a statement to Energy Transfer Partners, the company behind the pipeline, requesting a temporary pause in order to find an accord with the aggrieved tribe, citing the need to make decisions "with respect to considering tribes' views on these types of infrastructure projects." According to Mashable, Earthjustice attorney Jan Hasselman (who filed the suit in July for the tribe) will continue to challenge such ventures.
"We will have to pursue our options with an appeal and hope that construction isn't completed while that (appeal) process is going forward," he said. "We will continue to pursue vindication of the tribe's lawful rights even if the pipeline is complete."
This pause is only a temporary respite, and Judge Boesberg believes that the "tribe has not demonstrated that the injunction is warranted here." If construction of the pipeline is ceased, Energy Transfer Partners could potentially lose $1.4 billion in the first year. A status conference for the Sioux lawsuit will occur on September 16th.
(Via Mashable)