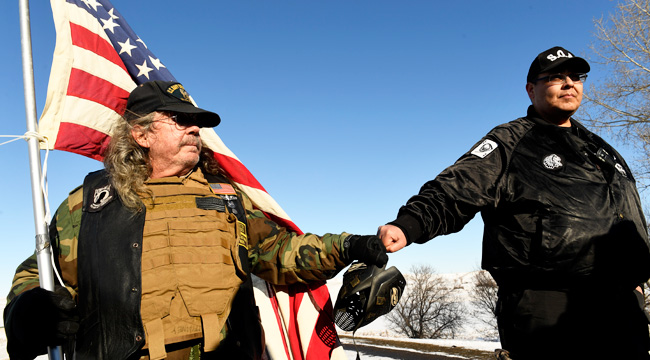 On Sunday afternoon, the Obama administration halted the construction of the Dakota Access Pipeline. This directive denied a final permit (an easement) to continue drilling under a dammed section of the Missouri River. The Army Corps of Engineers announced it would conduct an environmental review and explore ways to reroute the pipeline. This news arrived after thousands of veterans flooded into the water protectors' encampment — the largest tribal gathering in a century — to stand with Standing Rock.
The Sioux and their supporters celebrated while knowing that they hadn't won the war, only a major battle. The Trump administration could overrule the decision, and in the meantime, some bad news has already arrived. The owners of the pipeline (Energy Transfer Partners and Sunoco Logistics) will defy the order of the Army Corp, which the companies accuse of playing politics and ignoring how the pipeline purportedly "has done nothing but play by the rules." In short, the owners resolve to keep drilling:
In spite of consistently stating at every turn that the permit for the crossing of the Missouri River at Lake Oahe granted in July 2016, comported with all legal requirements, including the use of an environmental assessment, rather than an environmental impact statement, the Army Corps now seeks to engage in additional review and analysis of alternative locations for the pipeline.

The White House's directive today to the Corps for further delay is just the latest in a series of overt and transparent political actions by an administration which has abandoned the rule of law in favor of currying favor with a narrow and extreme political constituency. As stated all along, ETP and SXL are fully committed to ensuring that this vital project is brought to completion and fully expect to complete construction of the pipeline without any additional rerouting in and around Lake Oahe. Nothing this Administration has done today changes that in any way.
The people of Standing Rock may have anticipated this reaction, for they have not yet begun to clear the encampment. This non-move could be interpreted as simply deciding to celebrate for a night before packing up, but there's not much to be mistaken from this photo (from Ruth Hopkins of Indian Country Today) of cars continuing to arrive late into Sunday night.
The original mandatory evacuation date was Monday, December 5. The Army Corps' late-breaking announcement was likely formed in response to the veterans' arrival at Standing Rock, but the Obama administration also wished to avoid a Monday conflict. However, this fight will likely continue, as Sara Snider of CNN notes how some protesters will wake up and see the press release for the first time. In the interest of continuing to protect drinking water and sacred sites, it's unlikely that the encampment will vacate soon.
(Via BusinessWire & CNN)