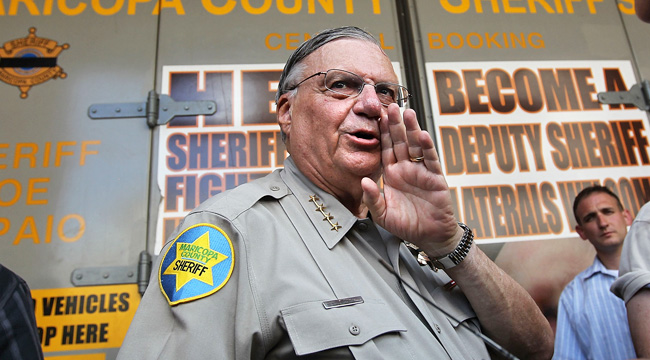 On Tuesday, it was reported by ABC News and the Arizona Republic that the Department of Justice will pursue criminal charges against the controversial Arizona sheriff Joe Arpaio. Susan Bolton, a U.S. District Judge, has requested that Federal officials provide her with an order to show cause. Those documents, expected to be complete by Wednesday, will allow the case to move forward.
Arpaio has served as the elected sheriff of Arizona's Maricopa County — which is located in the southwestern portion of the state and is near, but not adjacent to the Mexican border — since 1993. He has drawn criticism for allegations that range from misuse of public funds to a failure to properly investigate sex crimes, but is best-known for anti-immigrant practices.
In 2007, a Mexican tourist who had entered Arizona legally was detained and questioned for nine hours by members of Arpaio's department. Allegations from other individuals soon came to the forefront. In 2013, another U.S. District Judge ruled that the practices — both in the publicized cases and more broadly — illegally targeted Latinos. Arpaio and his office were also found to have violated a 2011 injunction against immigration-focused policing.
In August, that District Judge referred Arpaio for charges of criminal contempt and perjury.
Arpaio, 84, has been an outspoken supporter of Republican presidential nominee Donald Trump. Due to his age, Judge Bolton has ruled that there will be a six-month sentencing cap on the criminal contempt charge, which effectively makes the crime a misdemeanor.
(Via ABC News & AZ Central)