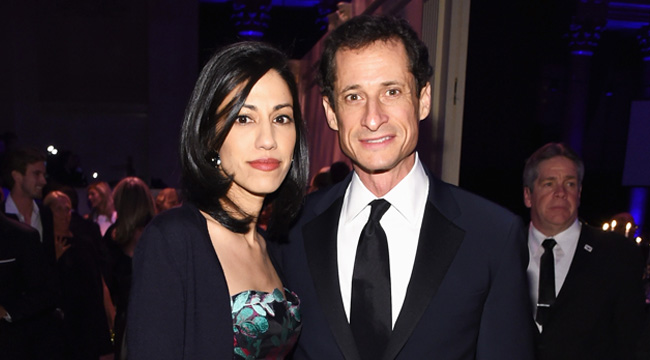 Clinton aide Huma Abedin separated from husband Anthony Weiner in August 2016 after his current sexting scandal broke involving a 15-year-old girl. Many months later, Abedin has finally filed for divorce from the former U.S. congressman after he pleaded guilty to the charge of transferring obscene material and will now have to register as a sex offender. Weiner, who shed tears while apologizing to the teen, told the court that he had "a sickness." He has agreed not to contest his prison sentence (which could be as long as 27 months) when he returns to court on September 8.
Abedin, it seems, has finally had enough after weathering previous scandals involving Weiner's lewd online behavior. She filed papers immediately after Weiner's court appearance, according to the New York Post:
Abedin brought an "Anonymous vs. Anonymous" action in Manhattan Supreme Court, asking for the court to seal the case.

The filing is uncontested, meaning she is not expecting a fight over custody of the couple's only child, 5-year-old son Jordan, or their assets.

Given Weiner's guilty plea — and soon-to-be status as a sex offender — it appears that Abedin holds all the cards, specifically when it comes to their son, experts said.
The man known to the Internet as Carlos Danger admitted (after calling the story a hoax last summer) to the charge in order to strike a deal, which may still land him in prison. Since 2011 (at least publicly), Weiner has made himself the subject of multiple sexting scandals, and his most recent conduct managed to ensnare Hillary Clinton's emails, due to shared devices between himself and Abedin. That he's now going to be a registered sex offender adds severity to his existing behavior, and there's the continuing embarrassment of Weiner being the cause of Clinton's reopened private server probe.
Huma. Is. Out.
(Via New York Post)