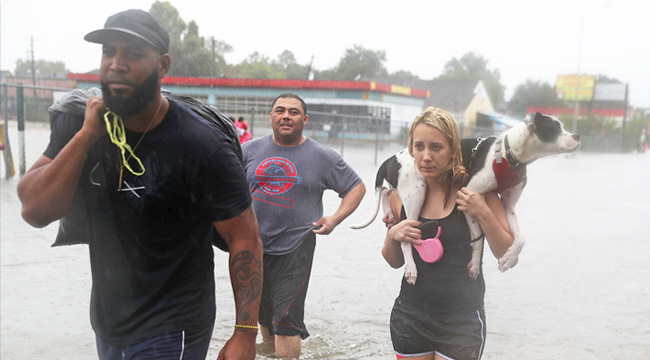 Slow-moving Tropical Storm Harvey, which made landfall as a Category 4 hurricane, has parked itself over the southeast portion of Texas. The system unleashed already-catastrophic flooding already in Houston, which saw over 1000 people rescued from their homes. One particularly horrifying photo of a flooded nursing home in Dickinson perfectly illustrated the dramatic plight of those caught in the path of this system that has killed at least five people, and it looks like matters will grow much worse before the storm moves east.
The National Weather Service has issued a statement regarding the historic magnitude of what's to come for Texas:
"Local rainfall amounts of 50 inches would exceed any previous Texas rainfall record. The breadth and intensity of this rainfall are beyond anything experienced before. Catastrophic flooding is now underway and expected to continue for days."
The Weather Channel reports that some areas of Texas have already been inundated with 27 inches of precipitation, which has overtaken Houston streets, flooding newsrooms and nearby communities like Dickinson. If totals do indeed reach 50 inches, this would break the 1978 Atlantic tropical cyclone rainfall record of Tropical Storm Amelia that dumped 48 inches of rain in isolated areas.
CNN reports that Dallas has announced plans to open (on Tuesday) its Kay Bailey Hutchison Convention Center up as a "mega-shelter" for 5,000 evacuees. Meanwhile, authorities are warning residents of the the hard-hit areas of Rockwell and Corpus Christi, which received the brunt of the storm's landfall, not to return to their homes anytime soon. Rockwell, especially, is considered to be uninhabitable, a state that could continue for months. In Houston, schools will be closed for the entire week, and two major airports — George Bush Intercontinental and William P. Hobby — are shuttered until further notice.
Simply put, his storm has brought utter devastation to the fourth-most-populous city of the U.S., and Dallas' mega-shelter will help ease the situation, but not by much, for 6.5 million people call Houston home.

If you wish to donate money, time, or anything else to Harvey victims, you can find a list of charitable organizations to do so right here. These social media videos easily show that Houston, Dickinson, and other communities will have a long recovery ahead.