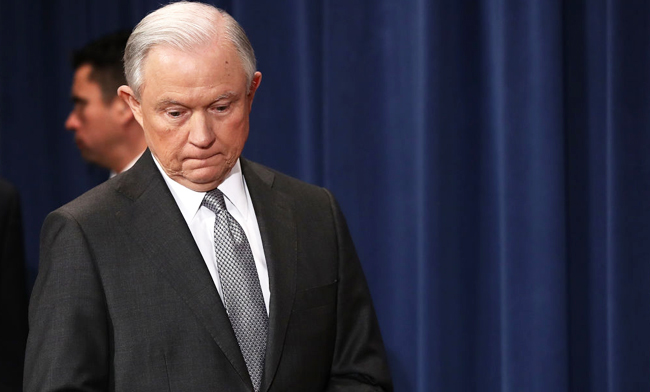 With former FBI Director James Comey's Thursday testimony on the horizon, President Trump's friction with Attorney General Jeff Sessions has reportedly become increasingly overt to the point that Sessions has suggested resigning. Trump's growing frustration with Sessions stems from the AG's decision to recuse himself from the Russia investigation, which has heated up exponentially since Trump's firing of Comey last month.
Sources have told ABC that Trump only learned about the Attorney General's decision to recuse himself minutes before the announcement was publicly made, and the President has remained "fixated" on this "disappointment." According to ABC, Trump has lashed out at the Sessions in multiple private meetings, blaming Sessions' decision to recuse himself as one of the main factors in the Russia investigation expanding. It's still unclear if Sessions has offered to resign, or has simply threatened it. According to the New York Times, this is what went down (a DOJ spokesman declined to comment to ABC):
In a daily press briefing, Sean Spicer was asked if Trump still has confidence in the attorney general, who was one of the earliest politicians from the Republican party to side with Trump's campaign. His response was typically curt: "I said I have not had a discussion with him on the question. I don't, If I haven't had a discussion about a subject, I tend not to speak about it."
On the heels of the reports of the rift between Trump and Sessions comes another report from the New York Times stating that James Comey asked Sessions not to be left alone with Trump, which Sessions couldn't guarantee due to Trump's … insistence … on interjecting himself into certain matters. The report says Comey looked to Sessions to protect the FBI from any outside influences, specifically the White House, while not revealing beyond its traditionally inappropriate nature why he was so concerned with Trump's meetings, one of which held the request to end the FBI investigation into Russian ties with former Trump national security advisor Michael Flynn.
While Comey will not go so far as to accuse Trump of obstruction, both reports have a common theme — Trump is going to do whatever he wants, and in his eyes, not even longtime allies or government institutions can stop him.
(Via ABC/New York Times)