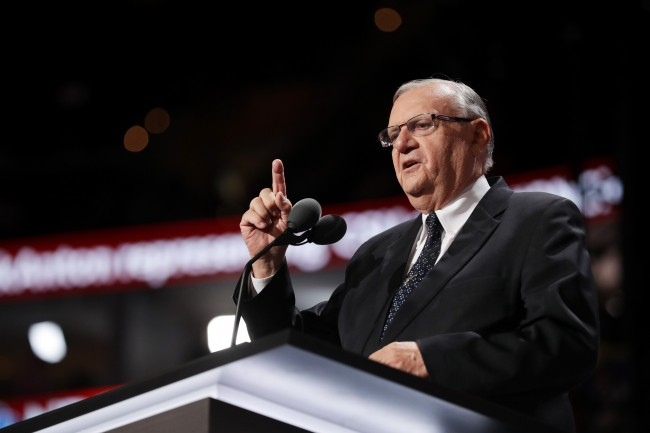 A federal judge has referred controversial Joe Arpaio and his number two in command for criminal prosecution related to a 2007 racial profiling case. U.S. District Court Judge G. Murray Snow said Arpaio had violated court orders from the 2007 case and urged criminal contempt charges for Arpaio's second in command Gerard Sheridan, along with Maricopa County Sheriff's Captain Steve Bailey and attorney Michele Lafrate.
Arpaio has been known to be a tough opponent on illegal immigration and has made no bones about it in the media. When Donald Trump announced he was going to speak in Phoenix this past March, Arpaio said he would be taking care of security. He made the sinister declaration that it was, "going to be a lot of fun taking care of business there." Arpaio's cavalier attitude about dealing with immigration has caught up to him with the recent referral by the judge.
Snow said Arpaio and Sheridan have made false statements under oath and have not had a good track record:
"[They] have a history of obfuscation and subversion of this court's orders that is as old as this case. There is also probable cause to believe that many if not all of the statements were made in an attempt to obstruct any inquiry into their further wrongdoing or negligence."
The referral by Judge Snow does not necessarily mean Arpaio will face criminal charges. That decision is up to federal prosecutors, who will determine whether it is necessary to pursue the case. If prosecutors decide to pass, the judge could choose a special prosecutor to take it on.
(Via The New York Times)