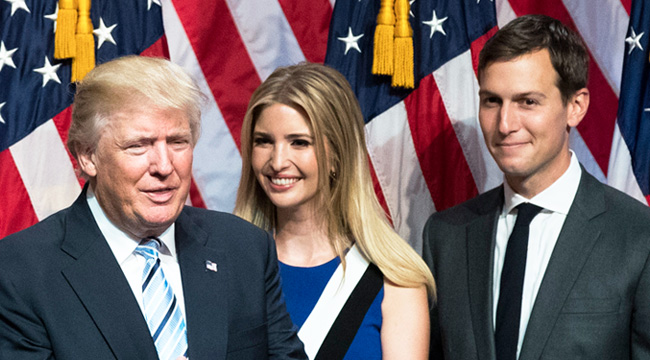 Donald Trump has been going knives-out on CNN in recent weeks for their supposed "unfair" coverage of him, and now he's getting help from family. The Wall Street Journal reported that White House Senior Adviser Jared Kushner complained about the network's coverage of his father-in-law during a meeting with Time Warner.
Kushner reportedly told Time Warner Executive Vice President of Corporate Marketing and Communications Gary Ginsberg that he and Trump had concerns about the "unfair coverage slanted against the President." In CNN's defense, the president has been equally antagonistic, calling the network "fake news" and singling out reporters. Kushner also discussed his issues about the network with others members of Time Warner leadership, including CNN President Jeff Zucker. The WSJ reported that CNN shot back at the "fake news" allegations: "Our journalism has never been stronger as we continue to hold the administration's feet to the fire. Those are the facts."
Kushner's plea to the Time Warner board comes at an interesting time, as the conglomerate is planning a merger with AT&T, which will require a review by the Justice Department and FCC before it gets the green light. Kushner did not bring up the deal, but Trump opposed it on the campaign trail.
Numerous members of the Trump White House have to gone to bat for their boss and thrown CNN under the bus, including Sean Spicer and Kellyanne Conway. It's not known if Kushner's plea will have any effect, but Trump and CNN may be destined to be enemies forever.
(Via The Wall Street Journal & Fortune)