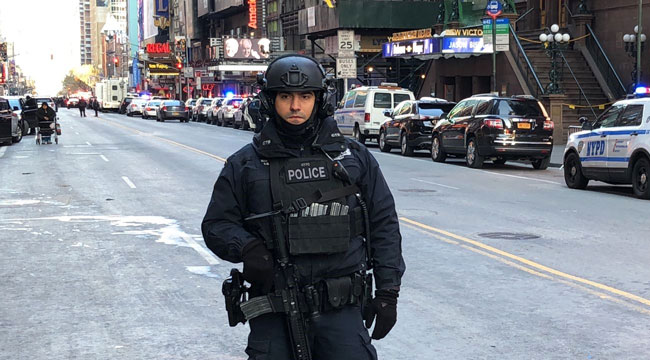 Details continue to spill forth on the New York City pipe-bomb explosion underneath the Port Authority bus terminal near 42nd Street and 8th Avenue. According to the FDNY, four people sustained injuries that are "non-life threatening" in nature. Police swiftly took one suspect, who is among the injured, into custody. According to NYPD Commissioner Bill Braton, the suspect is a 27-year-old Bangladeshi male who "acted in the name of ISIS."
The Associated Press has followed up with more details from NYPD Commissioner James O'Neill, who declared this to be a "terror-related incident." The NYPD also revealed the name of the suspect, Akayed Ullah, who officials say attempted a suicide bombing with a "crudely-made pipe bomb." Injuries sustained by three bystanders were (fortunately) minor, although Ullah's were obviously more severe, given his immediate proximity to the device:
Police say Akayed Ullah intentionally exploded the crude device in a passageway under Times Square during the morning rush hour Monday. They say he is in custody. They say the device is a crudely-made pipe bomb.

Authorities called the incident an attempted terrorist attack. Three others suffered minor injuries, including headaches and ringing in the ears.

The suspect had burns on his abdomen and also to his hands.
Authorities add that they believe, at this point, that Ullah was "inspired" by ISIS to carry out this attack, but they haven't yet established whether he's tied to any particular terror organization or individual cell.
Via the New York Times, Mayor Bill de Blasio didn't hesitate to label the explosion as an "attempted terrorist attack" while telling reporters that no other explosive devices has been discovered.
This is a developing story, and we will provide additional details as they arrive.
(Via Associated Press & New York Times)