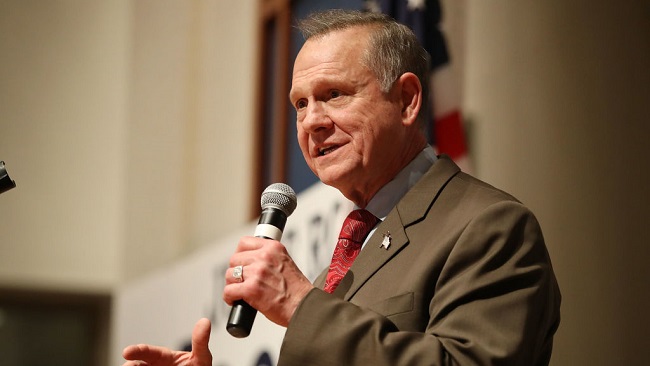 You would think failed Republican candidate Roy Moore would have already moved on after losing to Democratic opponent Doug Jones in Alabama's special election for its empty U.S. Senate seat. Yet here we are, over two and a half weeks later, and the former Alabama Supreme Court judge accused of sexual misconduct with minors has stubbornly refused to concede the race. He even began asking for more money to create an "election integrity fund" to investigate possible voter fraud, which seems to be the impetus behind his campaign's most recent efforts to delay the election's certification.
According to a complaint filed by the Moore campaign, the state should delay certifying the election results "until a full investigation of voter fraud is conducted." Why? Because as Moore and many of his more conspiratorial supporters have alleged since the race, "out-of-state residents had been allowed to vote." Per AL.com:
"This is not a Republican or Democrat issue as election integrity should matter to everyone," Moore said. "We call on Secretary of State Merrill to delay certification until there is a thorough investigation of what three independent election experts agree took place: election fraud sufficient to overturn the outcome of the election."
The complaint, which was filed with the Montgomery Circuit Court on Wednesday, includes individual affidavits from "three national election integrity experts" who claim "election fraud occurred" with a "seasonable degree of statistical and mathematical certainty." The paperwork also features a polygraph test Moore took that confirms, per his campaign, that the allegations of sexual misconduct levied against him before the special election are "completely false," because of course it does. According to CNN, Moore is also demanding "a new special election" be held.
Roy Moore should probably follow Vanity Fair's advice and take up knitting.
UPDATE #1 – 9:15am EST: CNN spoke with Alabama's Secretary of State, John Merrill, who insists that he will not postpone certification of the election results despite Moore's attempt to block them.