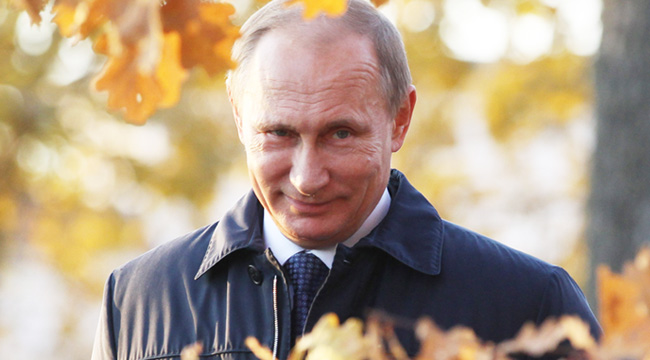 The dust has only begun to settle upon Russia's bizarre accusation that the U.S. is guilty of "direct interference" in their upcoming presidential election — because the State Department stressed the value of fair elections after Russia's Election Commission shut down a popular opposition candidate — but now there's a new wrinkle involving the 2016 U.S. election. A jailed Russian hacker is now claiming that the Kremlin (through the Russian Federal Security Service, or FSB) ordered him to hack the DNC, and he left a digital fingerprint behind to prove his story.
For over a year, U.S. intelligence agencies have agreed that there was "conclusive" evidence that Russia hacked in an effort to get Trump elected, and alleged hacker Konstantin Kozlovsky is backing up the story. McClatchy DC passes on the news, which originated during Kozlovsky's written responses to interview questions obtained by Russia's RAIN TV channel:
In written answers from jail made public Wednesday by RAIN TV, a Moscow-based independent TV station that has repeatedly run afoul of the Kremlin, Kozlovsky said he feared his minders might turn on him and planted a "poison pill" during the DNC hack. He placed a string of numbers that are his Russian passport number and the number of his visa to visit the Caribbean island of St. Martin in a hidden .dat file, which is a generic data file.
It's worth stressing that RAIN is the Russia's only independent, non-state run news network, which has been blocked in the Ukraine and has faced intense criticism from Putin's press secretary and, as a result, nearly shuttered in 2014. Kozlovsky's words would never surface via the RT or Sputnik propaganda arms, so the information is notable but presents difficulties since such a small group has access to the code to which Kozlovsky is referring. That is, the DNC was initially fairly secretive about the hack, choosing to hire the CrowdStrike firm to investigate the breach, rather than the FBI.
Still, Kozlovsky spills details, including how he worked at a remote computer from home while realizing that he was kept in the dark on the actions of others. He did, however, point the finger at the FSB official who gave him orders:
Kozlovsky's claims include an assertion that for the past seven years he was under the control of Major Gen. Dmitry Dokuchayev, who he said gave him orders to breach the DNC servers to interfere in the U.S. election process.
Major Dokuchayev happens to be one of the Russians who were indicted by the Justice Department for the state-sponsored hack of Yahoo accounts. In late 2016, Dokuchayev was arrested in Russia along with another FSB official on treason charges. Perhaps he'll soon start talking (if he can) now that Kozlovsky has pushed him back into the news.
(Via McClatchy DC, RAIN & Justice.gov)