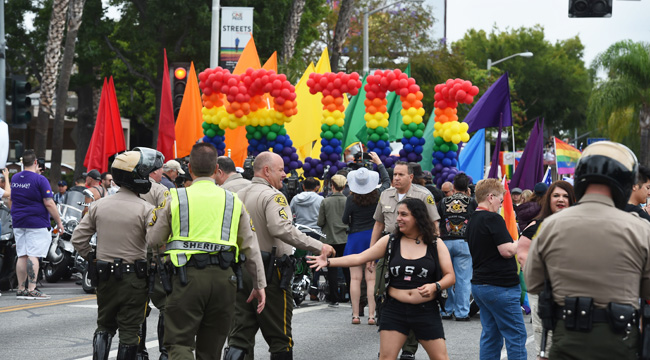 Saturday evening saw an ultraviolent attack on an Orlando nightclub, which swiftly became the scene of the deadliest mass shooting in U.S. history. Police sought motives for the incident after determining it an "act of terrorism." That shooter, Omar Saddiqui Mateen, may have also committed a hate crime, for his father told the press he was disturbed at the sight of men kissing. And across the country in Los Angeles, another man reportedly had similar intent upon the L.A. Pride parade in West Hollywood.
Sunday's event is already one flanked by high security, and police reported to calls about "a suspected prowler" near the parade scene. Police investigated the man, whose car bore Indiana plates and who claimed he was attending the parade. They uncovered a cache of assault rifles, ammunition, and apparent explosive devices, and The Los Angeles Times has more details:
Early Sunday, Santa Monica police received a call of a suspected prowler near Olympic Boulevard and 11th Street. Patrol officers responded and encountered an individual who told officers he was waiting for a friend. That led officers to inspect the car and find several weapons and a lot of ammunition as well as tannerite, an ingredient that could be used to create a pipe bomb.
The man, whose name has not been released, was arrested and swiftly taken into custody. Now authorities will add even more security to the event, which will continue as planned for a full weekend of festivities. The Pride parade had already planned a moment of silence for the Orlando victims. Fortunately, some quick thinking citizens saved the L.A. event from a similar attack.

Los Angeles Mayor Eric Garcetti spoke to the press and confirmed the existence of this "heavily armed" suspect, who police believe is "completely unrelated" to the horror that took place in Orlando. Garcetti thanked authorities for the quick response and told the crowd, "We go on, and we continue to love. And in the face of hate, hold somebody today."
(Via Los Angeles Times)