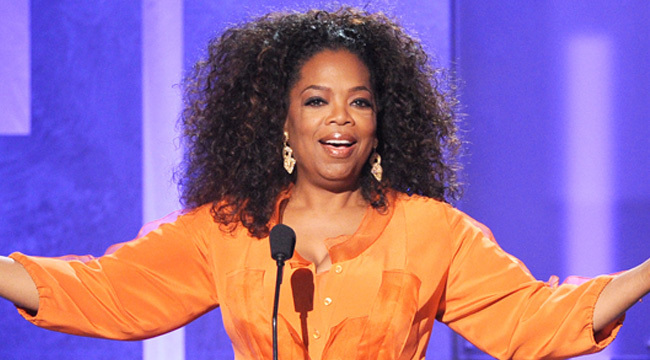 President Trump spent his Sunday night (unsurprisingly) watching TV. More specifically, he watched Oprah Winfrey — whose Golden Globes speech fueled rumors of a 2020 run — on 60 Minutes, on which she moderated a panel of 7 Trump voters and 7 non-Trump voters to discuss Trump's first year in office. Naturally, Trump couldn't resist tweeting his thoughts, slamming Oprah, and (possibly) revealing that he felt threatened by those 2020 rumors.
The president referred to Oprah as "insecure," and he wants everyone to know that they used to know each other "very well." Yet he felt that Oprah's questions "were biased and slanted, the facts incorrect." Then he dared her to run in 2020 and be "defeated just like all of the others!"
Well … the 60 Minutes transcript makes it evident that Oprah stayed mostly impartial. Yes, she asked questions revolving around Trump's controversies because those are unavoidable issues, and she obviously wasn't thrilled with Trump's "sh*thole countries" comment about African nations and Haiti. However, the panel encouraged open dialogue between both sets of voters — yet it wasn't pro-Trump propaganda, so of course he was upset.
In the end, what Trump did by tweeting is let everyone know that he does see Oprah as a threat by effectively pulling her pigtails on the playground. While Oprah's made it clear that she has zero interest in running for president, at least we've finally gotten a taste of how fun it would be if she did.