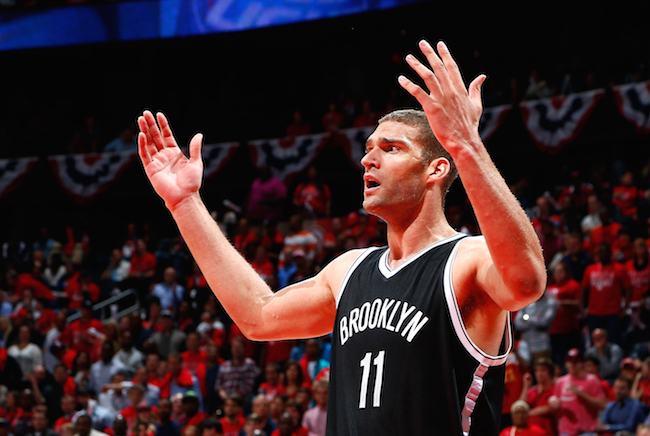 The Brooklyn Nets' wayward 2014-2015 season ended in unsurprising fashion on Friday night with a 111-87 loss to the Atlanta Hawks. Though the teams' first-round series was surprisingly competitive, it ended just like so many forecasted for it to go from the very beginning. Atlanta steamrolled aging, slow-moving Brooklyn with beautiful ball movement and aggressive defense.
Just which team are the Nets: The one that played the 60-win Hawks to a standstill through four games? Or the unfortunate they were in Game 6 and for the regular season's majority? That's surely a question Brook Lopez will be asking himself quite frequently over the next nine weeks as July's free agency period approaches – despite an assistant's locker room plea for him to stay in Brooklyn.
The Brooklyn Game's Devin Kharpertian has the details of a Nets coach trying to persuade the talented seven-footer to re-sign with the team long-term.
After the season drew to a close Friday night at Barclays Center, one Brooklyn Nets assistant coach implored Brook Lopez at his locker to stick around beyond this season.

You have another level to go to, he said. We can make you great.

Lopez, who can opt out of his contract and become a free agent, responded with passive, non-committal affirmation: Uh-huh, yup, definitely, every few seconds, until the conversation was over.
Despite his checkered injury history and relative ineffectiveness during the season's first half, it goes without saying that Brooklyn will do everything it can to keep Lopez in New York. The big man averaged 19.8 points, 9.0 rebounds, and 2.2 blocks against Atlanta, showing off the scoring prowess for which he's known while making a defensive impact that belies his shoddy reputation on that end of the floor.
Considering Lopez won two of the East's last three Player of the Week awards, he only further cemented a belief that he'll command a max-level contract this summer. And the Nets are likely to give it to him, says ESPN New York's Mike Mazzeo.
The expectation is that the Nets want to re-sign Lopez…according to sources.
But free agency is never as simple as an incumbent team's desire to retain a player – especially over the next two seasons.
Lopez has a $16.7 million player option for 2015-2016, a salary that falls well below his top maximum number. A possibility still exists he could play the final season of his current deal and cash-in even greater next summer as the cap number spikes to approximately $90 million in advance of 2016-2017. There's no way to tell for certain which route Lopez will take.
One thing is for sure, though – that the Nets want to lock him up long-term. We'll find out soon enough if Lopez is receptive to that scenario.