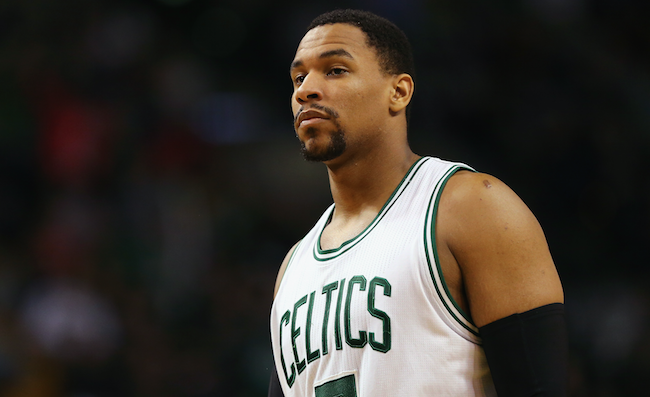 The Boston Celtics are getting help for the season's stretch run from the most unexpected place. Six weeks after ruling him out for the season with a stress fracture in his left foot, the team announced today that big man Jared Sullinger is fully healthy and immediately available to play.
Here's a press release on the matter with remarks from president Danny Ainge courtesy of the Celtics' website:
The Boston Celtics announced today that Jared Sullinger's metatarsal stress fracture has healed completely and that he will be available for this evening's game at TD Garden against the Milwaukee Bucks.

"We are excited that Jared's recovery progressed quicker than initially expected," said Celtics President of Basketball Operations Danny Ainge. "Jared was extremely diligent in his rehab, repeatedly expressing his eagerness to help our team reach the postseason. He will be available in a limited role this weekend as he works his way back to 100 percent game shape."
Sullinger was originally shut down for the season just after the All-Star break following a diagnosis of a left metatarsal fracture. Boston left no hints in the interim that he would return at any point this season, instead focusing on a summer plan to get the rotund 23 year-old into better shape come 2015-2016.
His addition is a boon for the Celtics as they battle to gain one of the Eastern Conference's final playoff seeds in the regular season's last days. Brad Stevens' team entered Friday tied with the eighth-place Miami Heat at 34-41, a half game back of the Brooklyn Nets for seventh-place.
But Boston actually ascended to postseason contention with Sullinger sidelined. It's gone 14-9 in the past 23 games after notching a record of 20-31 before All-Star Weekend, relying on improvement via both sides of the ball over that timeframe. The Celtics' -2.2 net rating before Sullinger went down was due to offensive and defensive efficiencies of 101.0 and 103.2, respectively. They boast a +1.1 net rating in the interim, owed to per 100 possession marks on either side of the ball of 102.1 and 101.0.
Those developments make sense. Sullinger isn't a rim-protector and struggles to slide his feet on the perimeter, whereas the players who've picked up most slack in his absence – Brandon Bass, Jonas Jerebko, and Tyler Zeller – offer portions of each attribute. The acquisition of Isaiah Thomas came just as Boston announced Sullinger's injury, too, accounting for Boston's superior offense.
There still exists the possibility, though, that Sullinger is actually an overall minus despite his standing as a worthwhile player and valuable prospect. Fortunately, the Celtics likely won't find that out over the regular season's final seven games – Sullinger's minutes will be strictly monitored because he's not in game shape. If he can offer Stevens a dose of offensive firepower in fleeting court-time, then, Sullinger could prove influential to Boston's last-ditch playoff efforts.
Either way, the Eastern Conference playoff race just got a bit more interesting. Sullinger and the Celtics tip-off against the Milwaukee Bucks at 7:30 EST from TD Garden.
[Celtics]