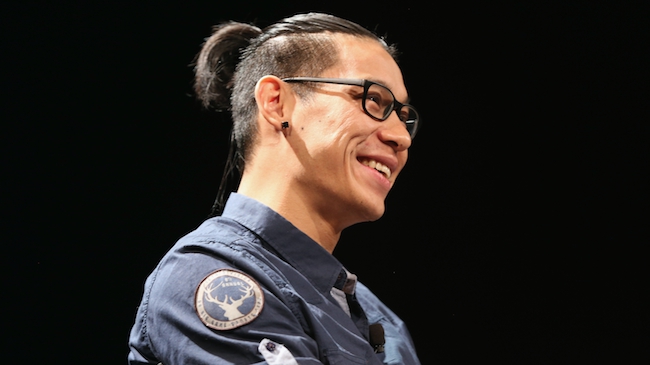 Stories of professional athletes repaying family members for years of care and hard work upon making it big are commonplace. What's far more notable than players buying their parents a house or grandmother a car, thankfully, are when we learn that he or she claims to have reached the pinnacle of the sporting world all by their lonesome.
Jeremy Lin's road to stardom, though, differs drastically from those of his NBA peers. The Brooklyn Nets' point guard wasn't highly recruited as a teenager, went undrafted out of Harvard, and was twice waived before making an indelible mark in the league with the New York Knicks in 2012. One person who probably wasn't surprised by his rapid ascent to global fame? Lin's mother, Shirley.
During an appearance at The New Yorker Festival on Sunday, Lin revealed the lengths to which his mother went to help ensure his NBA dreams would come true.
Talk about sacrifice.
Lin, remember, had little reason other than self-confidence to believe he'd become a viable NBA player after graduating from Harvard. It's fair to say many parents would have encouraged their Ivy League-educated offspring to pursue a more realistic career path than one of a professional basketball player, but not Lin's mother. She supported her son in a manner that goes beyond kinship at a time when few others did. What a prudent decision that proved to be, too.
Lin hasn't only established himself as a cultural icon in the NBA, but also just inked a contract with Brooklyn that will pay him nearly $40 million over the next three years. If Shirley hasn't already had her debt repaid, basically, it's probably only a matter of time until she will – many times over, too. Something tells us, though, that such an obviously proud, loving mother already feels her financial risk during a time of need was well worth it.