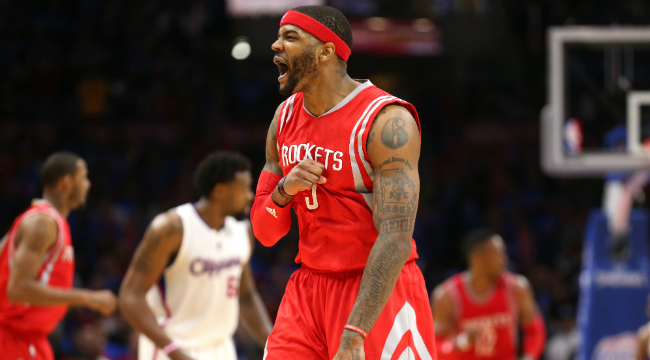 When the Rockets acquired Josh Smith off waivers in December last year, it completed the team that would make a surprise run to the Western Conference Finals. After letting Smith go sign a cheapie deal with the Los Angeles Clippers and suffering through a mediocre half season, it seems the Rockets are seeking to recapture the magic of last season, reportedly re-acquiring Smith in a trade with the Clippers on Friday.
The Rockets aren't giving up much of anything — just the rights to a couple of international players to satisfy the salary-cap requirements. The Clippers, according to Adrian Wojnarowski (who first reported the deal), are sending along the cash to pay the rest of Smoove's salary for the year. The main benefit for the Clippers is freeing up a roster spot for another player in a later deal.
Josh never found his footing in LA the same way he did in Houston last season. Along with fellow in-season acquisition Corey Brewer, Smoove was the centerpiece of the Rockets' elite second unit, which forced turnovers and ran on the Clippers with abandon. Smoove and Brewer's long-range shooting was spotty, but when they caught fire at the same time, the Rockets were unbeatable — just asked the Clippers, who they victimized in last year's Western Semifinals. (That series could have contributed to Smoove signing with the Clippers over the summer.)
So can the same thing happen this year? It remains to be seen — Smith should have plenty left in the tank at 30 years old, but his skill set is so unique that it wouldn't be all that surprising if his production tailed off. At his best, he can defend the center position well and start fast breaks himself, and his most reliable (if you could call it that) 3-point shot was as the trailer on those same fast breaks. At his worst, he loses players on defense with crippling brain farts and can shoot his team out of a ballgame on the other end. There are always so many ways it can go with Josh.
But Smoove was so valuable to the Rockets last year because of their injuries on the front line — Dwight Howard, Donatas Motiejunas and Terrence Jones all missed large chunks of time. Both Howard and Jones are playing, and Motiejunas was thought to be undergoing a minor setback in his recovery from back surgery. What's more, Clint Capela has emerged as a legitimate rotation option. So, either Motiejunas' back injury is once again a long-term issue, or someone is due for a steep decline in minutes. If Smoove once again becomes the first big man off the bench, Jones might not be long for Houston.
(Via Yahoo Sports)
Now Watch: How The NBA And Its Players Give Back In a Big Way