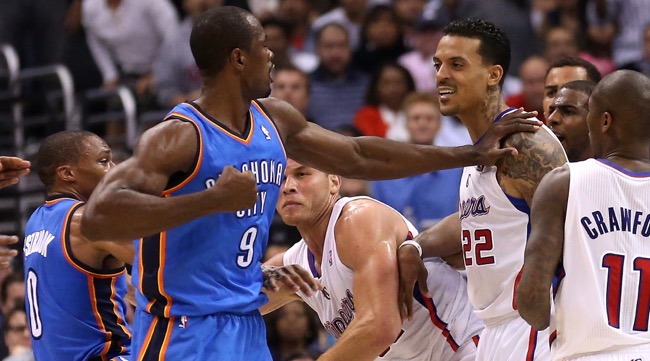 It's hard not to love Matt Barnes if you're an NBA blogger, and it's also pretty easy to hate him. But he's had his requisite moment lambasting Dwight Howard, and he's gone over the line with a peer's parent; Barnes' sh*t-eating grin in games always makes us laugh, and he's also had repeated issues going over the line on Twitter. He's good copy, basically, and he didn't disappoint in yesterday's SportsNation appearance.
When asked about Thunder power forward Serge Ibaka, who he's had a run-in with before, Barnes said, "Me and Serge can fight right now. I just don't like him." He said this before adding that Serge is basically a fake tough guy.
Serge took the comments in stride with this laughing response tweet.
When it's late July and most of the big-name free agents have been scooped up, this is what we're left with: A new Memphis Grizzlies role player challenging the Oklahoma City Thunder's defensive force in the middle to a fight.