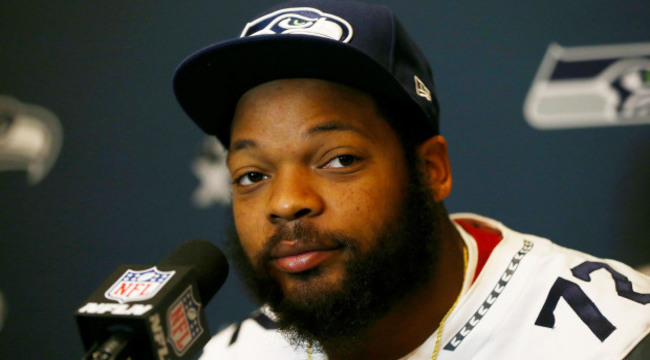 Getty Image
Steph Curry is beloved, by and large. He's a great player, perhaps the best in the NBA, but since he isn't a giant or an Adonis, he seems more relatable to the average fan. It doesn't hurt that he also seems like a genuinely good guy. Few people have anything negative to say about Curry, but one of the people who does is Seattle Seahawks defensive end Michael Bennett.
Curry, along with the Golden State Warriors, hosted a four-day basketball camp for kids in Hawaii. It happened to cost $2,250, which is what Bennett takes issue with. Bennett lives in Hawaii with his wife, and he wasn't happy to see that price tag on a camp, saying:
"I see a lot of different athletes come through Hawaii whether it's Steph Curry or whoever it is. They all come here and it makes me mad, because I live in this community and I understand this community — that there's so many kids who can't afford to pay such a high amount of money. In my mind it's like, how much money do you need before you start giving back for free? And I think a lot of athletes should start focusing on that."
Of course, Curry presumably did not decide how much the camp would cost, but he is the face of the Warriors – and one of the faces of the NBA – so that puts him in line for criticism from the likes of Bennett.
For his part, Bennett puts his money where his mouth is. Four years running, he has hosted a football camp on Oahu that is free. Bennett is also known for speaking his mind, so it's not surprising he called out Curry. Plus, you can't really take umbrage with a guy who wants to increase the opportunities out there for kids.
(Via The Big Lead)