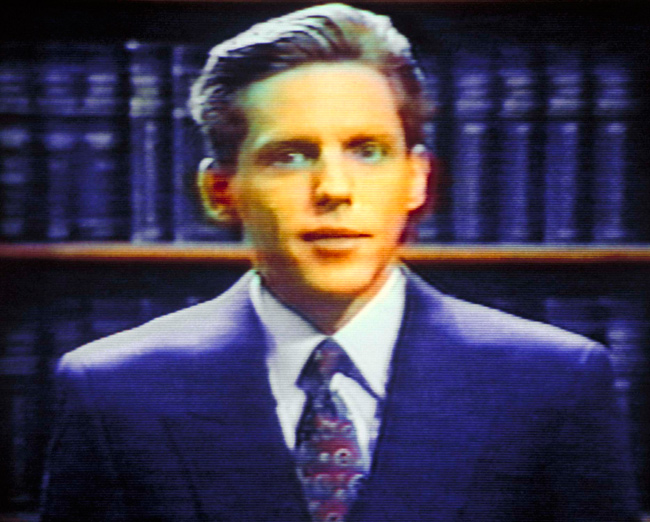 Alex Gibney's Going Clear: Scientology And The Prison Of Belief (based on Lawrence Wright's book) aired on HBO this past Sunday, and among the many damning allegations against the church (and videos of Tom Cruise acting like a Stepford actor/Bond villain), perhaps the most relevant was the film's depiction of the way the Church received their tax-exempt status. The film alleges that the church filed thousands of lawsuits (2,400, according to this Forbes piece) against the IRS, and against individual IRS employees, then made a backroom deal to drop them in exchange for the IRS designating the Church of Scientology a tax-exempt non-profit. A victory Scientology head David Miscavige is then seen celebrating at what looks suspiciously like a Nazi rally. (A thousand-year Reich, a billion-year contract, tomayto, tomahto).
(Of course, the Church has a different take on these events, just as they do on everyone interviewed for Going Clear, and on Paul Haggis, and on the New Yorker, which they famously ripped in a hilarious issue of their magazine entitled "The New Yorker: What A Load Of Balderdash.")
You can read the full, seven-page 1997 New York Times investigation into the decision here, which reads in part:
The landmark reversal shocked tax experts and saved the church tens of millions of dollars in taxes.

…an examination by The New York Times found that the exemption followed a series of unusual internal I.R.S. actions that came after an extraordinary campaign orchestrated by Scientology against the agency and people who work there.
The tax designation is especially relevant today, considering that, as of 2011, just two of Scientology's many sub-companies had a self-reported value of $1.2 billion. This for an organization that, according to the documentary and book, has fewer than 50,000 members worldwide.
Recently, Mia Farrow tweeted a petition on White House.gov to revoke Scientology's tax exempt status to her 640,000 followers. Of course, at 3,757 signatures as of this writing, the petition has fewer signers than petitions to designate May 20th Macho Man Randy Savage Day (4,857 sigs), to build a Death Star (34,000 sigs), and to deport everyone who signed a petition to let their state secede from the union (29,650 sigs). So, yeah, probably not much bearing on actual policy making there.
"This issue is not about whether Scientology is a religion," Gibney told TheWrap. "The issue is whether or not Scientology is pursuing policies that are not in the public interest."

The government simply needs to determine whether there's a "fundamental overriding interest" in declassifying an organization involved in the above activities as exempt from taxation.

According to the IRS website, to be tax-exempt, an "organization's purposes and activities may not be illegal or violate fundamental public policy."
An IRS representative told TheWrap he's unable to comment on whether there's currently an investigation into any organizations or individual cases. [TheWrap]
And of course, there have been plenty of allegations that the Church of Scientology's policies are both illegal and not in the public interest, such as paying SeaOrg members 40 cents an hour or less for hard labor (ALLEGEDLY) and using quasi-prisons to punish dissenters (ALLEGEDLY). Among other things.
There doesn't appear to be much policy movement there yet, but you'd think that if an HBO documentary can get a murder case reopened on the basis of an old man muttering to himself in a bathroom, they can get the tax-exempt status of a multi-billion dollar organization re-investigated.
All I know is, I will happily donate to Scientology's legal defense fund if I can get one of those sweet Squirrel Busters t-shirts.