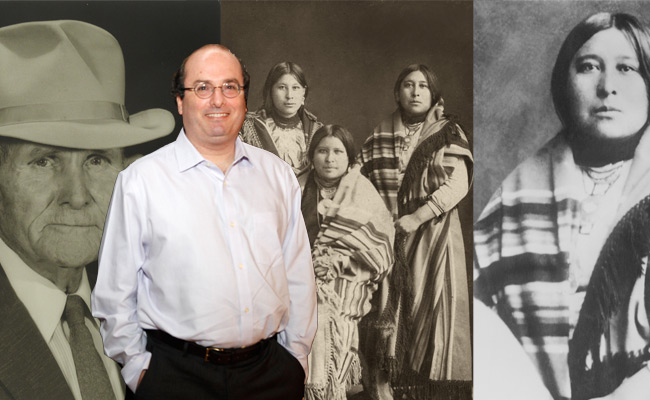 (Grann, with book subjects FBI agent Tom White — left — and Osage Mollie Burkhart — right)
–
Listen on the player above, or download as an mp3 here (right-click, save as).
You can also listen on Stitcher.
Lost City of Z author David Grann's new book, Killers of the Flower Moon: The Osage Murders and the Birth of the FBI, is about the mass murder — through gunshots, bombs, and poisoning — of almost the better part of an entire generation of Osage Indians in the teens and 1920s, carried out in order to inherit their lucrative mineral rights (the Osage were the richest American Indian tribe in the nation at the time, thanks to the oil on their reservation).
The conviction of a few Oklahoma townspeople for the murders and cover up was one of the FBI's first and defining successes. Now, Grann's investigation uncovers for the first time the true extent of the "Osage Reign Of Terror," which wasn't just a single plot, but rather an interlocking web of conspiracy and corruption that required the collusion of countless "normal" Oklahomans.
One of the first examples of the FBI investigating corruption among local police, Grann's book comes out at a time when Attorney General Jeff Sessions is actively trying to weaken the federal government's mandate to police local police ("it is not the responsibility of the federal government to manage non-federal law enforcement agencies" read a Sessions memo from April). This week I talk to Grann about his book's relevance, the relationship between racism and greed, and the dying art of shoeleather reporting.
In addition to all that, it's Alien: Covenant week on the Frotcast, so we're watching and breaking down the 1979 original, Alien. Panel includes me, Frotcast co-host Brendan, and comedians Joey Avery and Matt Lieb. Enjoy, and donate at Patreon.com/Frotcast. Frotstrong, Ben!
#Content
2:00 – Talking Alien
14:00 – Digressing into Alex Jones' appearance on the Joe Rogan podcast with Eddie Bravo
29:00 – Interview with  David Grann
1:04:00 – Siskel and Ebert's originally negative Alien review
1:21:21 – A Matt Lieb's love life update
1:28:00 – John Lennon was an asshole?
EMAIL us at frotcast@gmail.com, LEAVE US A VOICEMAIL at 415-275-0030.
SUBSCRIBE to the Frotcast on iTunes.