Jennifer Pryor, the last of Richard's five wives (also the fourth, oddly – Pryor was married seven times to five women) and the person in charge of his intellectual property, was the guest on today's episode of Alison Rosen Is Your New Best Friend. Naturally, the upcoming Pryor biopic was a big topic of conversation.
The basics are that the cast and crew are set, with Lee Daniels (Precious, The Butler, that movie where Nicole Kidman pees on Zac Efron) directing Mike Epps as Pryor, Kate Hudson as Jennifer Pryor, and Oprah as Richard's grandmother†, who was sort of the most important figure in Pryor's childhood. Daniels is polishing a script by Bill Condon (Dreamgirls, Kinsey), with shooting set to start in July. It still doesn't have an official title. Pryor says Lee is the one to do it, because he has had his own struggles with addiction and can identify with Pryor's baggage. As for a release, she says "Harvey [Weinstein] would like it to be released for the Oscars. Because, you know, Harvey is good at that sh*t."
Naturally, the most illuminating thing about the interview was how many people you have to please in order to get a biopic made. Especially, you know, when the subject was married seven times and has six children.
On her estate battles with Pryor's children:
"Right after Richard died, three months after Richard died, one of his daughters sued me. She lost, she kept losing. It took four years of litigation and they ate up a lot of their trust in the meantime.

"Basically the trust that Richard left the kids, she didn't think was enough. They basically wanted my job, the intellectual property. In fact, Courtney Love was there [at a Lee Daniels event] last night, and she asked, have you had trouble with all the family estate litigation? I said oh hell yeah, girl, hell yeah. I said do you need a litigator? Because mine is the bomb. It's so interesting, because it's such a common story. You know, a celebrity dies, and there's intellectual property… Anyway, we prevailed, so [the responsibility for Richard's legacy] is on my shoulders."
On Pryor's children's qualms with the biopic:
"Their qualms are they want to be part of it. And the problem is, they have to talk to me, and they don't want anything to do with me."

"Richard Junior surprised me. I thought I had a good relationship with him, and all of a sudden he's talking smack about me in the press. And I wish him well, I don't know where it came from. He and Nick Cannon all of a sudden got tight, because Nick Cannon didn't get the part and Nick's really pissed off about it. But listen, I have learned to take the high road because there's less traffic up there. I really don't hold any animosity towards these kids. I sort of get it. All those mamas, you know, and they're going to imbue their kids with that same kind of anger… but the truth is, I didn't have kids with Richard. It's probably the one smart thing I did with Richard. But I chose not to, because number one, I knew I wasn't going to be a good mother, and number two, I knew he wasn't a good father. "
On Mike Epps' casting:
"I approached him a few years back, and then we had a falling out. And it had to do with him kind of getting involved too much with the kids, and… so when Lee told me he was considering Mike, I said "Oh… you know, I will defer to you." There were three people in the running, really: Marlon Wayans, and Nick, and Mike. And Lee said Jen, you know, Mike's the real deal. I said I know, I agree. I said I can't give my blessing, but I'm not going to stand in your way. I have approvals, but I said I'm not going to f*ck with you, I'm not going to cockblock you. He said no, I need your blessing. I said well I can't give you my blessing, because he hasn't been cool with me and he's gotta come clean with me. He said but he says he didn't do anything. And I said well he's lying. I said I need him to come clean."

What had he done?

"He was in bed with Rain [Pryor's third child], and Elizabeth [Pryor's second], and there was… just some sh*t. He'd given some money to Rain, and… he thought he was gonna make a project with Rain based on her book, which was crazy anyway because you can't make a movie about Richard Pryor without [me?]. It was just an absurd thing. But I asked him to speak at Richard's funeral, and he got up there, and I could tell he was kind of disconnected from me, and he was… the kids were already compiling a case against me, and had a lot of animosity, and I could tell he was sort of playing to them. Anyway, I spotted it. And, again, I said Lee, just do your thing. But Mike called me one day and said Jen, I wanna come clean. I gotta tell you the truth, you're right. And I said I knew it. And he said that's all you wanted was the truth? I said that's all. And so now we're gonna move forward in a really productive way."
Jesus, can you imagine having to get involved in that kind of family drama just to make a movie? What a nightmare. I guess it's true what they say, history is written by the litigators.
† Is there any important historical event that Oprah can't insert herself into at this point? I honestly wonder if Selma would've won more awards if Oprah hadn't been in it.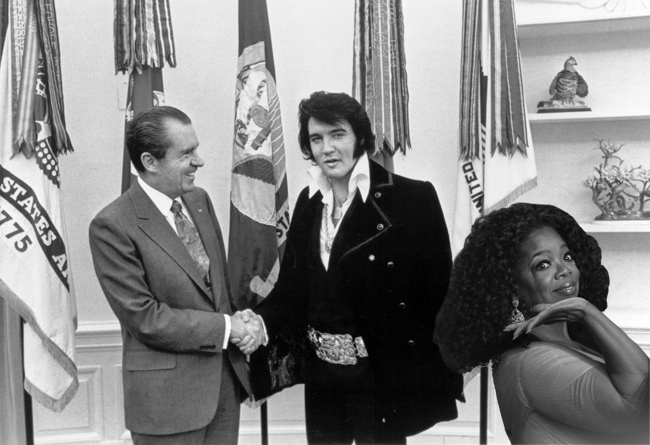 The latest episode of Alison Rosen Is Your New Best Friend is up now.