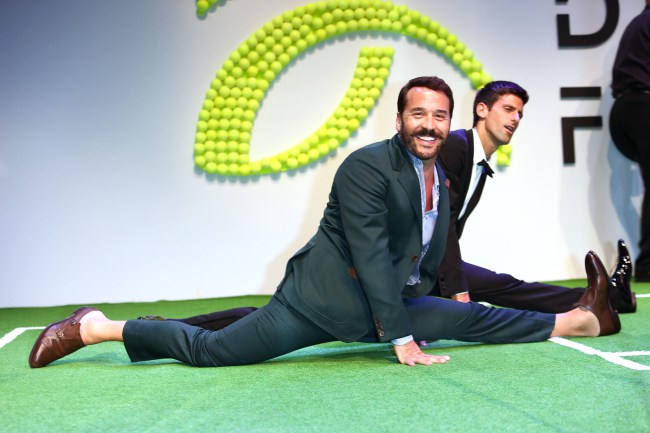 From PCU to Grosse Point Blank, I've always enjoyed Jeremy Piven as an actor, and still do. I've also heard whispers that he is kind of a pain in the ass (Adam Carolla always used to use him as a go-to example of a celebrity everyone says is a tool, and then there was that mercury-poisoning story). You wonder how much of that is Piven himself, and how much is just people's inability to separate Jeremy Piven from his Entourage character.
Drew Magary hung out with the Entourage crew at SXSW for a feature that GQ just published, which offers a rare window into the mystery that is J-Piv.
Here's the money section of his close encounter with Piven, which begins just after Magary notes that "an assistant is rubbing bronzer on Piven's ankles."
…This results in a conversation about acting between Piven and me in which, despite my best efforts to ingratiate myself, everything I say winds up being hilariously wrong. Observe:

"One of the forms [of acting] that I did was commedia dell'arte," he tells me, "which is an Italian form where you're in one of four states—happiness, sadness, anger, or fear — at all times, and you're ramped up to a 10, you know?"

"Like, very melodramatic?" I ask.

"No," he says. "No disrespect, that's exactly what you're trying not to do."

"Ah! You can tell me I'm wrong. I think of melodramatic as hammy."

"If that's your take on what I do…"

F*ck. "No, no, not what you do," I say, frantically trying to recover. "I'm saying the Italian form you were talking about."
"The Italian form is a heightened emotion that has to be rooted in sincerity. I ran into Tim Robbins, the actor and director who taught me the commedia dell'arte form, and he just laughed, because he knows that that character"—Piven means Ari—"is played completely in the commedia dell'arte form. Now, if I were to explain that to the average person who maybe likes Ari Gold, I don't know—I don't even know why I'm telling you, to be honest."
There's lots more where that came from in the full piece, as well as Kevin Dillon's hot take on Boyhood, so I'd urge you to check that out. Anyway, there's a lot to enjoy about this. There's the fact that Piven is giving an extemporaneous lecture on acting, while simultaneously breaking every rule of improv in the interview. This is simultaneously douchey but also sort of refreshing — a lot of interview subjects are so focused on yes-anding you that you wonder what they really think about anything. Not so with Jeremy Piven, it seems. "Hmm, you have a misconception about something based solely on the way I've communicated it. Perhaps we shouldn't hang out."
Even better, you expect Piven to be a douche, then it turns out he's completely different than what you expect… and yet somehow even douchier (I know the word "douche" is overused, especially by me, in this post, but it seems ideal here). My takeaway? Jeremy Piven contains multitudes. Layers. Like a douche onion.
Also, our own Josh Kurp was at SXSW at the same time and snapped this creepshot of Drew hanging around while Kevin Hart met Adrian Grenier. Cool story, huh.
This is so much more rich with symbolism now that I know about the commedia dell'arte thing.