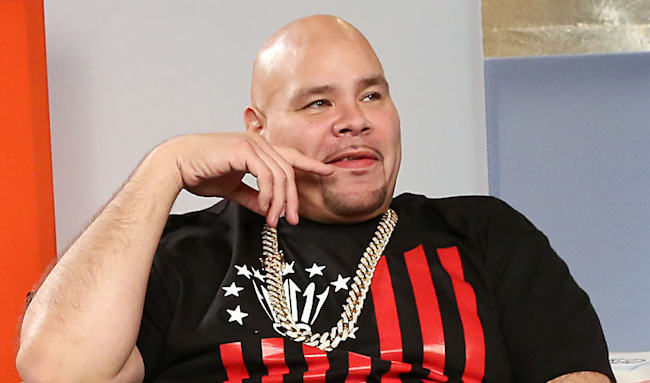 Enough time has passed since Colin Kaepernick of the San Francisco 49ers elected to start kneeling during the national anthem that pretty much everyone has been able to form and voice an opinion about it. On Sunday, Kate Upton expressed her displeasure with Kaepernick and other players who followed their lead. A day later, it's time to take stock of other celebrities and the like sharing their opinions that may have slipped under the radar.
Here, just to bring you up to speed:
Wayne Newton: not a fan.
Kid Rock: also not a fan.
Okay, cool. Neither of those are especially surprising. Who else has chimed in?
Fat Joe: apparently not a fan!
The rapper, who rediscovered the spotlight earlier this summer with his hit "All the Way Up," took to Twitter to offer up his thoughts on the quarterback's actions last Friday. However, with the tweet being quickly deleted, it's taken a few days for it to make the rounds.
Seeing as how this tweet was sent out prior to Sunday's games, where a number of players protested the anthem in one way or another, it's apparent that Fat Joe is directing his criticism towards Kaepernick. Unfortunately, the shots fired by Joe aren't all that original and have been a line echoed by numerous Kaepernick detractors since he first took a knee at the end of August in a preseason game with the Green Bay Packers. There seems to be some confusion out there about exactly why Kaepernick is protesting, as well as a misconception that he's protesting the American military. The whole situation can be best explained by comedian and podcaster Bill Burr. Thanks, Bill.
But as for Fat Joe, his Kaepernick comments come on the heels of the 2016 MTV Video Music Awards, when the rapper had a fairly negative and off-color response to Young Thug and his recent penchant for wearing a dress. And then prior to that, he raised some eyebrows by saying that if it weren't for him, no one would have known about Big Pun. That may be true, but it also kind of comes off as a weak claim that diminishes Big Pun's legacy. Stay tuned until next week when Fat Joe yells at kids playing to get off of his lawn.