All men (and women) must die, but especially the men (and women) on Arya Stark's kill list from Game of Thrones. There's Joffrey (for being a twat), Cersei (for being the twat's mother), Ilyn Payne (for murdering her father), The Mountain (for the torture at Harrenhal), Beric Dondarrion, Thoros of Myr, and Melisandre (for being mean to her one true love, Gendry), and… Tom Hanks?
While appearing on The Graham Norton Show, Williams said that Game of Thrones fans often ask her to add them to Arya's kill list. She knows it by heart and recited the names while staring into the camera, along with three additions: boxer Anthony Joshua, Graham Norton, and America's sweetheart, Tom Hanks.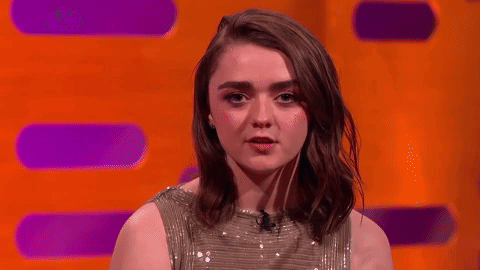 If Hanks is on the list, what hope do the rest of us have? Things could have been tense between The Post star and Williams, considering she, y'know, wants to murder him, but because he's such a good guy, he accepted his fate. And was impressed that Williams is on a stamp. The Royal Mail recently announced a line of postage stamps featuring ten Game of Thrones characters, including Arya. In response, the U.S. Postal Service should reveal the Tom Hanks Collection. Make mailing letters fun again with a That Thing You Do! stamp.
Have you listened to the TV Avalanche podcast with Alan Sepinwall and Brian Grubb? Subscribe on iTunes or Google.