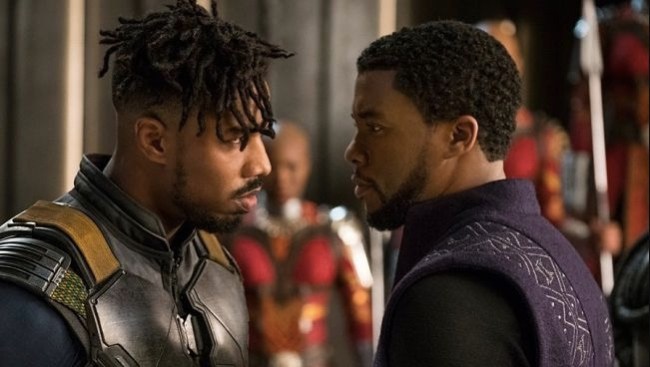 [Spoilers for Black Panther, obviously]
Black Panther (which is already breaking numerous box office records) is so good, you won't want it to end, but when it does, at least you have two post-credits scenes to look forward to. Technically, one mid-credits scene and another after the long string of VFX artists is finished, both of which will have some impact on Avengers: Infinity War.
In the first, T'Challa (Chadwick Boseman), with Nakia (Lupita Nyong'o) and Okoye (Danai Gurira) at his side, is visiting the United Nations in Vienna to announce that Wakanda will stop hiding and start sharing its technologically advanced resources with the rest of the world. "We must find a way to look after one another as if we are one tribe," T'Challa says. When one snobby representative from an unidentified nation asks what Wakanda has to share, the Black Panther just smirks (he should have winked at the camera).
What does it mean for Infinity War? It's clear from the trailer that the film will be partially set on Wakanda, with its seemingly-endless deposit of vibranium, the most powerful metal on Earth (it's what Captain America's shield is made out of). It will come in handy when Thanos, the ultimate Marvel big bad, comes to wreck sh*t up. That, snobby representative, is what Wakanda has to offer.
Also, Tony Stark will want to get his hands on Shuri's (Letitia Wright) lab.
In the second, the action cuts back to Wakanda, where young boys run out of a tent to Shuri who asks them, "Are you playing around with that man again?" That man is the Winter Soldier himself, Steve Rogers' buddy Bucky Barnes, who's been MIA since the end of Captain America: Civil War (he's been in a coma-like state to heal). The scene, and the movie, ends with Shuri telling the White Wolf, as the children call him, "Come, you have much more to learn."
What does it mean for Infinity War? At the end of Civil War, poor Bucky, now without his prosthetic arm (it was ripped off by Iron Man), realizes he can't trust his own brainwashed mind. Hence, his self-banishment to Wakanda to recover, heal, and to, based off the trailers for Infinity War, fight alongside Captain America, Black Panther, Black Widow, Falcon, the Hulk, and War Machine, many off whom are on the U.S. government's most-wanted list. If only they knew an invisible city to temporarily find shelter… The kids calling Bucky the "White Wolf" (the cool superhero nickname given to T'Challa's adopted brother Hunter in the comics) may be important down the line, too.
Also also, Shuri is the real hero of Black Panther, and maybe Infinity War.