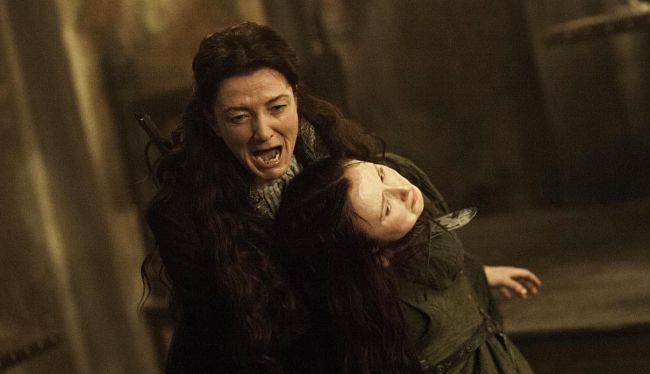 George R.R. Martin has a mostly cozy relationship with Game of Thrones. The A Song of Ice and Fire author has penned four episodes of the HBO series (none since season four's "The Lion and the Rose," but he's been busy lately) and is working with the writers on all the perspective spinoffs. But there's at least one thing that bugs Martin about Thrones: the lack of Lady Stoneheart.
In the books, after Catelyn Stark is brutally murdered at the Red Wedding, she's resurrected as Lady Stoneheart, who travels the Riverlands to get her revenge on the Frey family. Seeing as how her daughter Arya killed the Freys last season, and the show bypassed the best opportunity to introduce the character, it's unlikely we'll see Zombie Cat. Martin, who previously voiced his displeasure with David Benioff and D.B. Weiss forgoing Lady Stoneheart, is still miffed.
"In the book, characters can be resurrected. After Catelyn is resurrected as Lady Stoneheart, she becomes a vengeful, heartless killer," he recently told Esquire China (as reported by Time). "In the sixth book, I still continue to write her. She is an important character in the set of books. [Keeping her character] is the change I most wish I could make in the [show]."
This, of course, assumes Martin finishes The Winds of Winter before 2047, at which point we might all be zombies, anyway. Maybe that's all part of the plan.
(Via Time)