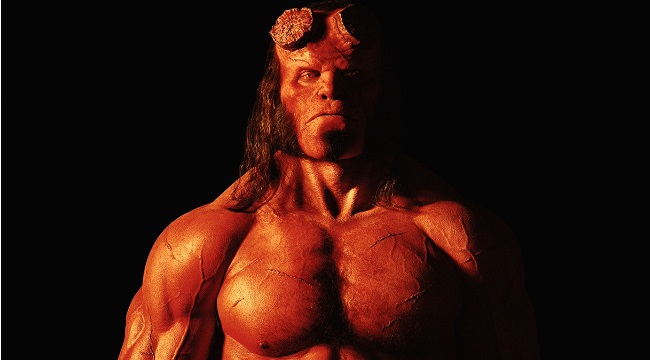 Release date changes are usually crummy omens — signs of production trouble, of studio heads losing faith, and thus of the audience losing their faith, too. But this one doesn't sound bad; maybe it's even good: The big Hellboy reboot has been bumped from January 11, 2019 to April 5, 2019, according to The Hollywood Reporter.
For one thing: Hey, it's only three months! For another: That gets the picture out of the January dumping grounds to the more respectable month before the summer movie season begins in earnest. (Of course, we kind of live in the summer movie season year round these days, don't we?) The date shimmying means it opens just one week after the Shazam!, the DCEU film about a teen boy who can turn into a superhero, but not like Spider-Man.

The reboot finds Stranger Things father figure David Harbour replacing burly (yet progressive!) Ron Perlman as the cigar-chomping son of a demon, and it's been directed by Neil Marshall, the gorehound The Descent, Doomsday, Centurion, and some two of the bloodiest Game of Thrones episodes, namely "Blackwater" and "The Watchers on the Wall," both about battles.
Also reminder: Guillermo del Toro has nothing to do with this Hellboy. The director of the most recent movie to win the Best Picture Oscar helmed the two previous, Perlman-centered Hellboy films, from 2004 and 2008. Not that he's outgrown such popcorn fare post-The Shape of Water: Del Toro's still co-writing and producing the Scary Stories to Tell in the Dark movie, and he's always mixed up his creature features between the highbrow (Pan's Labyrinth, The Devil's Backbone) and the not-quite-lowbrow (the two Hellboys, Pacific Rim).
When it does arrive, in a mere seven months, we can be sure to expect the comic book movie equivalent of Hamlet, or at least according to Harbour.
(Via THR)