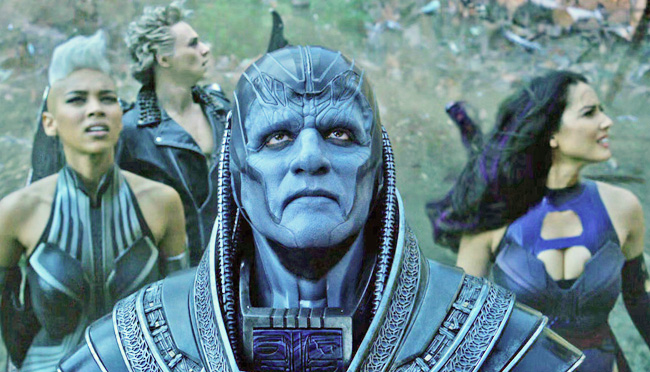 After adjusting for inflation, X-Men: Apocalypse is the second lowest-grossing movie in the X-Men series. It's also one of the least liked: the 2016 superhero film boasts an unremarkable 48 percent rating on Rotten Tomatoes, and even one of its stars — Apocalypse himself! — has called it "excruciating."
As part of their "Most Iconic Characters" series, GQ asked Oscar Isaac to discuss his performances in Drive, Inside Llewyn Davis (his best movie, IMO), A Most Violent Year, Ex Machina, Star Wars, Annihilation, and X-Men: Apocalypse. (What, no love for Suburbicon?) "Apocalypse, that was excruciating," Isaac said. "I didn't know when I said yes that that was what was going to be happening. That I was going to be encased in glue, latex and a 40-pound suit — that I had to wear a cooling mechanism at all times." He had even more to say on that note:
"I was like, 'Oh, I get to work with these great actors that I like so much,' but I couldn't even see them because I couldn't move my head. And I had to sit on a specially designed saddle, because that's the only thing I could really sit on, and I would be rolled into a cooling tent in-between takes."
"Excruciating" is also what I call an Oscar Isaac movie where you don't get to see his handsome face. Please enjoy his sweater, though.