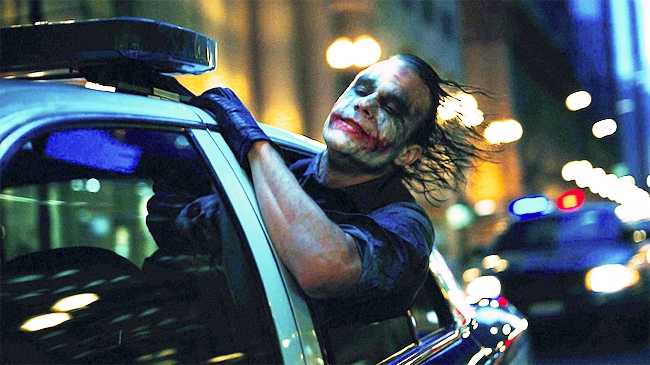 There are always plenty of reasons to go back and watch The Dark Knight. In the vast gang of superhero films that we've been offered over the years, Christopher Nolan's Dark Knight trilogy is still a triumph for its realistic attempt to create Batman's world. The second film stands out thanks to Heath Ledger's posthumous Oscar-winning performance as Batman's arch-nemesis The Joker. It's a performance that is worth reliving on its own, but now you might have another reason to jump back to Gotham.
Patton Oswalt went ahead and dropped his thoughts about The Joker's origins on Saturday — possibly to celebrate the renewal for A.P. Bio on NBC — and it really gives an interesting take on the criminal's past and why he always seems to be one step ahead throughout the movie. Taking off the idea that Ledger's Joker is former military and suffering from PTSD, Oswalt jumps into the idea that Joker is a particular kind of ex-soldier:
He seems to be very good at the kind of mind-f*ckery that sustained, professional interrogation requires. His boast about how "I know the squealers" when he sees one. The way he adjusts his personality and methods depending on who he's talking to, and knowing EXACTLY the reaction he'll get: mocking Gamble's manhood; invoking terror to Brian, the "false" Batman; teasing the policeman's sense of loyalty to his fallen, fellow cops; digging into Gordon's isolation; appealing to Harvey Dent's hunger for "fairness." He even conducts a "reverse interrogation" with Batman when he's in the box at the police station — wanting to see how "far" Batman will go, trying to make him break his "one rule." He constantly changes his backstory (and thus who he is). To Gamble and his henchmen, he's an abused child (figuring that they were also the products of abuse and neglect). To Rachel, he's a man mourning a tragic love — something she's also wrestling with.

In the end, he ends up trying to mind-f*ck an entire city — and the city calls his bluff. Or is that what he wanted all along? He plummets to his seeming death, laughing like a child.
It might not be a theory that drives things to crazy levels, but it is just right to pique renewed interest in the film and make you want to rewatch. Also, there's plenty of folks that get the itch and start to pitch him more details in the comments. The thing that comes to mind for me is a more twisted and capable version of Tommy Lee Jones' character in Under Siege. The Dark Knight is a far better movie, but that rogue agent that is torn apart and returns to torment the world that made him would be present in both according to this theory.
The Joker doesn't need a backstory to be a great villain in the end. But when a sufficient effort is made to give him one, it's worth taking note. At least he wasn't another member of the League of Shadows or something. You can read through all of Oswalt's post below.